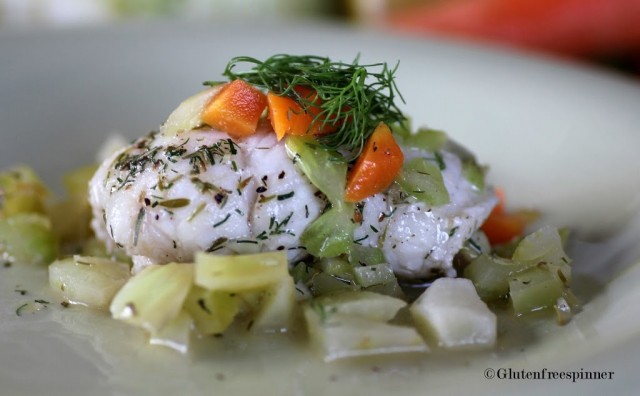 Paper Sole (Petrale) – Adopt a GF Blogger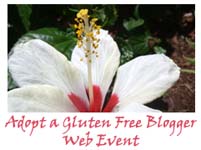 Sea at Book of Yum started an event called Adopt A Gluten Free Blogger as a way for people to discover all the great gluten-free blogs out there and try new recipes. This month I'm adopting Nicola of G-Free Mom
. Do you know Nicola? You can read all about her here, and learn of the many health related obstacles she and her family have tackled and overcome through dedication, research, hard work and the love they have for each other. Her blog is truly a celebration of defeating life's challenges one step at a time.
I was fortunate to "meet" Nicola last month when she invited me to contribute to a project she is passionate about, Detox January: A month of juices, smoothies, and GF Soups.
"One cold January, 20+ bloggers came together to provide an array of great smoothie, juice and detoxifying soup recipes. There was a new recipe daily and the blogosphere buzzed with many people finding great new ways of upping their intake of fruits and vegetables with the view to making a healthy – and hopefully continued – start to the year."
She, along with those other talented bloggers, created a collaborative effort e-book with proceeds going to mito-ACTION and I'm more than honored to participate in their project.
Now, back to her recipe for Paper Sole (Petrale). In the post for this recipe, Nicola shares another example of how her family works together to live a healthy and gluten free lifestyle. While she strengthened her mind, body, and soul in a yoga class, her husband shopped the local Farmers Market and Seafood Shop to make her this delicious sole baked with vegetables in parchment paper. The minute I read her post I knew it was something I wanted to try.
I envy her location in San Rafael, CA as she mentions the abundance of Farmers Markets in the area and the beautiful fresh organic produce to choose from. She also mentions a Gluten Free Bakery, Mariposa, that carries a gluten free baguette. It's unimaginable in my location to stroll to a local bakery and purchase a gluten free baguette…oh the wishful thinking! I Googled the bakery just to drool and found a picture of the baguette….haaahaaa…really. Yum. I reeeeeeeaaaalllly want to bite into that baguette.
Ok…onward….about Nicola's recipe for Paper Sole. This would be my first time preparing sole and there couldn't be a better way to be introduced than how her husband prepared it. Understandably, living in Minnesota will hardly give me the same experience as Nicola and her family experienced with a freshly filleted fillet of sole. But I found it at our local Byerly's Market and the butcher (I don't think we have fishmonger's here) told me it was a very delicate fish. I was cheerfully surprised at the price per pound, $9.99. Being my husband is an avid fisherman, we are fortunate to enjoy fresh walleye and pan fish year round from our freezer so the only fish we really purchase is
either halibut for $23.00 per pound or Salmon for around 15.99 per pound. Sole was a great find.
I really love this recipe. Not only is it easy to prepare, but it's light and fresh tasting with vegetables that are still crisp yet tender.
I loved peeling open the paper to find the fish perfectly done and steaming with fresh aroma's of the sea.
The flavorful herb infused wine sauce gently surrounds these little bundles of sole offering a perfect pairing for slices of crusty bread. A chilled bottle of Pinot Grigio and you've got a gourmet San Franciscan style meal to share with the one you love…or, as Nicole and her family did, lucky invited guests. Delicious!
Head over to Nicola's blog and learn the benefits of taking charge of your own health through diet, nutrition, yoga, and helpful resources. Enjoy her meaningful words as well as her many other delicious gluten free recipes.
4 skinless fillets from of Sole (Petrale or Dover)

4 bulbs of Fennel

4 carrots

3 leeks

4 twigs rosemary

4 twigs of thyme

Dill

1/2 cup white wine

Olive oil

Salt

Pepper
Method:
Switch the oven to 360 degrees
Chop all the vegetables into 1/2 inch slices, mix in a bowl with the rosemary, thyme and a handful of dill.
Roll out a 2 x 2 ft piece of parchment paper, roll 2 fillets together into a tight 'bundle', as in the photo above (2 fillets in each wrap) and place on the paper and place the mix of vegetables on top and around the fish.

Season with sea salt and black pepper
Start closing the parchment paper wrap by tightly rolling the edges together leaving a small opening on one side. Think of it as if you are creating a wall around the fish and vegetables, through which the juices can't escape.

Pour a slug of olive oil as well as 1/4 cup of white wine in the wrap
Close the wrap fully and repeat with the remaining 2 fillets

Put all on a baking tray and bake in the oven for 15-20 minutes (depending on size of fillets)
Carefully open the wraps and serve the fish and vegetables with a side of boiled potatoes or rice….or a crusty Baguette.