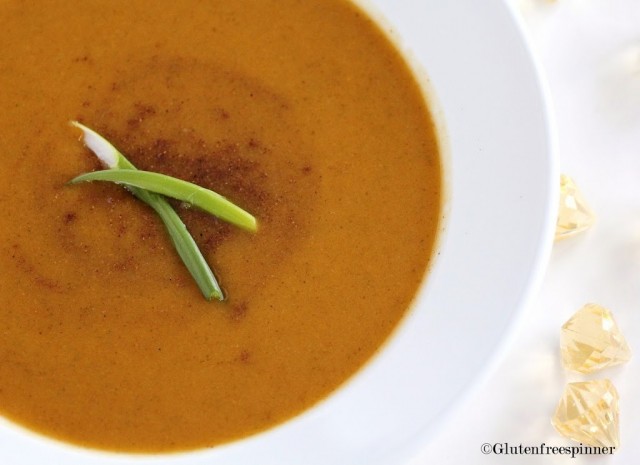 Detox Soup with an Exotic Twist
Have you tried Garam Masala yet?
Garam masala
(from

Hindi

: गरम मसाला,
garam
("hot") and
masala
("mixture")) is a basic blend of ground

spices common in Indian and other South Asian cuisines.
I found it to be

Exotic…warming…mysterious…delicious, and I sprinkled it on top of my detox soup. Although there are no detoxing benefits of garam masala itself, it was a wonderful addition.
I met a new gluten free blogger this week, Nicola at G-Freemom
Hat's off to Shirley at gfe who has a wonderful gift of introducing bloggers to each other and who introduced me to Nicola. I'm so glad she did, she's quite amazing.
Nicola held a D-tox January Event
in which 20+ bloggers contributed to provide great juices, smoothies, and detoxifying soup recipes. But she didn't stop there, she's in the process of creating a project that will include all the detox entries she received and making them available to everyone – all the while benefiting a great cause. Remarkable, yes? I'd say so. Nicola asked if I would be interested in contributing to the project and I immediately said, Yes! This Detox Soup with an Exotic Twist is my addition to her already closed event, and I'm honored to be a part of it.
This soup requires only a handful of ingredients and comes together quickly making it a great addition to your detox recipe file. Start by simmering the soup to break down the ingredients so your body can digest and absorb the nutrients. Next, an immersion blender whips the simmering goodness into a creamy detoxifying bowl of joy. A light sprinkle of Garam Masala just before serving adds an exotic twist of flavor to warm and satisfy your soul.

Relax, enjoy, renew, discover. Detox.
Ingredients:
14 ounces organic low salt vegetable or chicken broth

½ cup chopped cabbage

½ chopped green apple

1 medium carrot grated

½ cup small dice sweet potato

¼ cup chopped fresh parsley

1 teaspoon fresh grated ginger

2 green onions chopped
To serve:
Garam Masala sprinkled on top
Directions:
Combine all ingredients in a medium sauce pan, cover, and simmer over low heat until all vegetables are soft, about 30 minutes. Blend with an immersion blender until smooth. Serve with a sprinkling of Garam Masala and slivers of green onions.