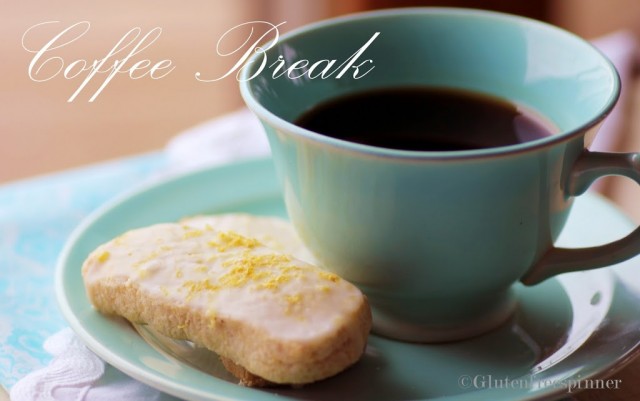 Almond Polenta Cookies
A busy Saturday schedule had the clock ticking the weekend away and left me scrambling to get things done. Although another load of laundry was beeping in the dryer, I noticed the sun peeking through the hazy clouds and took a moment to enjoy it. I situated myself by the window with a hot cup of coffee and a freshly baked Almond Polenta Cookie. The remaining tasks could wait while I enjoy the quiet sunshine.
These tasty Almond Polenta Cookies are easy to make and last for days. They are gently

sweet, crisp yet tender, and have a wonderful zest of lemony goodness.
Weekends are much too short as it is, take some time for you…
take the time to enjoy a little sunshine on your next coffee break.
¼ cup almond flour

½ cup sweet Sorghum flour

½ cup sweet white rice flour

1/3 cup tapioca starch

½ cup yellow cornmeal

½ cup white sugar

½ tsp guar gum

1 tsp baking powder

1 tsp grated lemon rind

¾ tsp ground cardamom

Dash salt

½ cup cold butter (1 stick) cut into cubes

2 Tbsp water

1 large egg

½ tsp almond extract

Powdered sugar for top before baking
Lemon Icing (recipe follows)
Preheat oven to 350 degrees and line 2 large baking sheets with parchment paper (or one and do two batches).
In a food processor, add the almond flour, sorghum flour, sweet rice rice flour, tapioca starch, cornmeal, sugar, guar gum, baking powder, lemon rind, cardamom, and salt and pulse to combine all ingredients. Next add the butter and pulse to combine just until crumbly. Add the water, egg and almond extract and pulse just until the ingredients come together.
Pour the dough onto a large sheet of plastic wrap and roll to mold into a square log about 1 1/2″ thick. Continue molding until the dough is a firm log with the same dimensions in thickness from one end to the other. With a sharp knife (or cheese knife works well too), cut the log into about 24 cookies (they measure about 3″ x 1 1/2″) and place flat on the prepared baking sheets. Lightly sprinkle powdered sugar over each cookie and bake about 15 minutes or until lightly golden brown. (The powdered sugar will dissolve while in the oven but leaves a n ice texture to the top of cookie.) Allow to cool on pan before frosting with the lemon frosting. Sprinkle frosting with lemon zest.
Lemon Frosting:
Combine frosting ingredients adding lemon juice until desired consistency.