Rum Cake – The "Friendship" Cake
If you've received a cake like this, you know the special meaning…or perhaps you received one but never realized there was a tradition behind The Rum Cake and were just lucky enough to feel the kindness. A good friend of mine is Queen of The Rum Cake, and the very sight of it brings me warm thoughts. When we built our new home and spent a
 month living out of suitcases until it was complete, she had one waiting for us the first night we were able to sleep there. The minute I saw the cake, I felt the love.
The Rum Cake is called the 'Friendship Cake' because of the tradition to share it with someone when welcoming them to the neighborhood, or bringing to someone in times of need or hardship, or a funeral or sickness. It's that special something to celebrate a new born child, or a new home, or a new co-worker, or a neighborhood gathering.  Get the idea?  It's a cake that brings sunshine into the home and hearts of those receiving it. Pretty great concept, yes?  And each time I've delivered one, it's reciprocated with a request for the recipe.  Maybe that's another reason it's called the Friendship Cake…the irresistible flavor and moistness starts conversation and is passed from one home to another.
But wait, it's not just the recipients of this cake that receive a warm feeling, the givers are equally love-filled knowing how much it will be enjoyed AND how easy it is to make.  We all know life is busy and many times those kind, wonderful, thoughts of doing good deeds for others get replaced by full schedules and life's obligations.  This recipe is a constant stand-by that presents well, tastes great, and can be made in a short amount of time.  Win-win.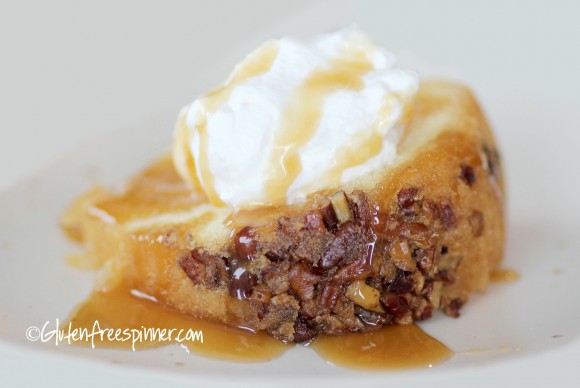 So this past year there were many times I thought about the Rum Cake and how I needed to convert the recipe to gluten free.  You see…it's also a really-really delicious cake!  Ha!  Nothing wrong with bringing the Rum Cake into your own home to celebrate life with your family, or friends, or visitors, or maybe just because you are craving a piece.   The original recipe uses a Yellow Cake Mix (Butter Recipe) from Duncan Hines and a box of vanilla instant pudding, both containing gluten.  These two ingredients contributed to the ease of this cake, but also to the challenge in making it gluten free.  My solution was using Betty Crocker's Gluten Free Yellow Cake Mix and a small amount of Mayonnaise to add the moistness that pudding provides. (I also think vanilla Greek yogurt would be a nice switch-out for the mayonnaise and will try that next time.)  Betty Crocker's GF Cake Mix is much smaller than the Duncan Hines, so the ingredient amounts needed adjusting as well. As we all know with GF baking, the likelihood of a cake collapsing is pretty high, but I'm happy to report the cake turned out beautifully.
Finally, let me tell you the many scrumptious ways to serve this special cake!  It's delicious all by itself with a cup of coffee which is normally how it's enjoyed.  But you can jazz it up by drizzling caramel sauce over each slice and topping it off with fresh whipped cream (picture above).  Or, try ladling strawberries or raspberries over the top with…yes, whipped cream.  Or for the chocolate lover, imagine chocolate fudge and vanilla ice cream oozing down the sides of each piece combined with the rum flavoring of the cake?  Ohhhh, yah!   The next time you have a friend in need or a neighbor to welcome, or…just want a delicious piece of heaven, check out The Rum Cake, it never disappoints. 
Preheat oven to 325 degrees
1 pkg Betty Crocker Gluten Free Yellow Cake Mix 

1/3 cup mayonnaise

1/3 cup rum

1/3 cup canola oil

3 eggs 

1 tsp vanilla extract 

1/2 cup chopped pecans for bottom of pan
Directions:
Combine all ingredients (except pecans) and blend with hand mixer for 2 minutes on high.
Spray bundt pan with non-stick spray and pour chopped pecans on bottom of pan.  Pour the batter on top of the pecans and bake in preheated 325 degree oven for 36-40 minutes.  Check with toothpick.
¾ cup sugar 

6 Tbsp butter

¼ cup rum

¼ cup water
Directions:
Put all topping ingredients in a small saucepan and bring to a boil over medium heat.  Boil for 3 minutes and watch closely turning heat down to med-low so it doesn't overflow.  Remove from heat and set aside.  While the cake is still hot, poke holes into the cake with the sharp end of a skewer or just use a knife.  Evenly pour the topping over cake allowing it to drain into the holes.   Let it sit for 30 minutes.  Invert cake onto plate and you'll see the pecans are the topping.