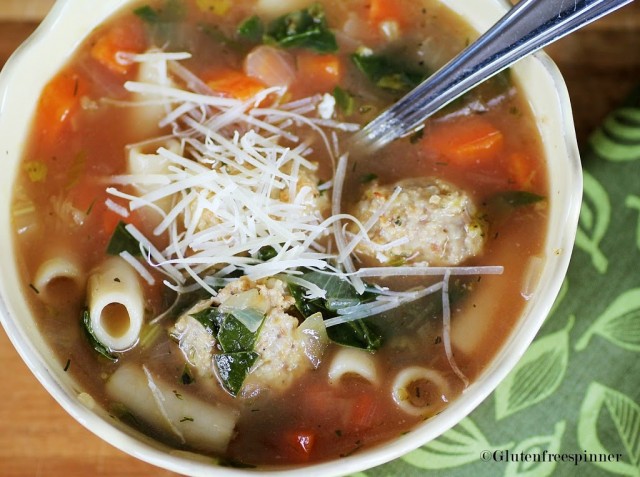 Italian Wedding Soup
Last week we enjoyed nature's kiss of warm 35-50 degree weather, which was a welcomed break from the below zero snowy winter thus far. Spring was in the air and warm rays of sunshine melted most of the drifts and standing snow from driveways and side yards. Everyone was 'springier' and moods were lighter and happier and we all came out of hiding. We took the dogs for a long walk down the country road where distinct rows from the Fall harvest suddenly appeared in the corn fields. There were layers of river rocks all along the dirt road that seemed to surface out of nowhere and slushy puddles filled the potholes that splashed us as cars drove by. Oh how I love Spring…but this was just a tease and we knew it wouldn't last. The weekend forecast confirmed our knowing that winter wasn't leaving us just yet. Fourteen inches of snow was on the way with blizzard conditions and freezing temps. Oh the joys of Minnesota.
So like everyone else, we drafted our grocery list and headed to the store to stock up for a few days of comfort food. Blustery winter weekends are the makings of togetherness, fireplaces, and simmering soup, and I can't think of another way I'd rather spend it.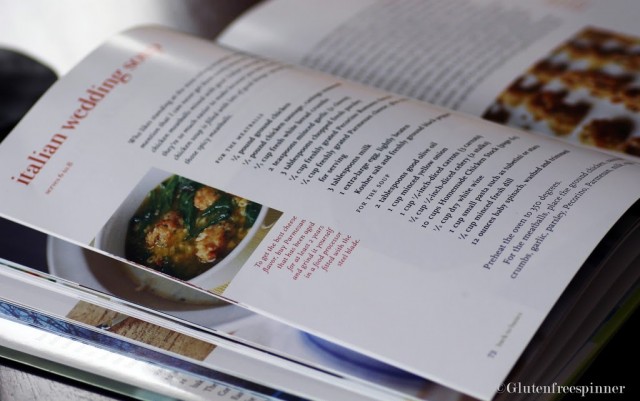 I love cookbooks….more specific, cookbooks with pictures. I read them like a novel and admire the creativity in the ingredients chosen and the beauty of the food styling. I have quite a collection to browse and this wintry day had me curling up with a handful of my fav's to gather inspiration. The photos capture my attention first as I appreciate the colorful display of each dish and the chosen prop or backdrop. I love to analyze each shot noticing the detail of the lines or angles.
Photography has always been a passion of mine and it's the one course of study I excelled in and loved. Who knew I'd bring my enthusiasm for photography to the art of food…what a delicious way to share my passion.
Barefoot Contessa's Back to Basic's was the final inspiration for my winter day soup; Italian Wedding Soup. I've never tried this variety before but knew my husband would love every bite. Meatballs…that's all I needed to read and see…oh how he loves meatballs. Me…not so much, I'd be happy with just vegetables, but this soup had a wonderful combination of both. And did I mention comfort? It doesn't get much cozier.
I followed the recipe fairly close, substituting turkey for the chicken and adding a few additional spices and ingredients for flavor. It turned out beautifully. Ina Garten offers a great way to make the meatballs that takes no time at all. She suggests dropping them onto parchment paper and baking them in the oven. This produces a rustic shaped meatball, not perfectly round, and that's exactly how they should be in this soup.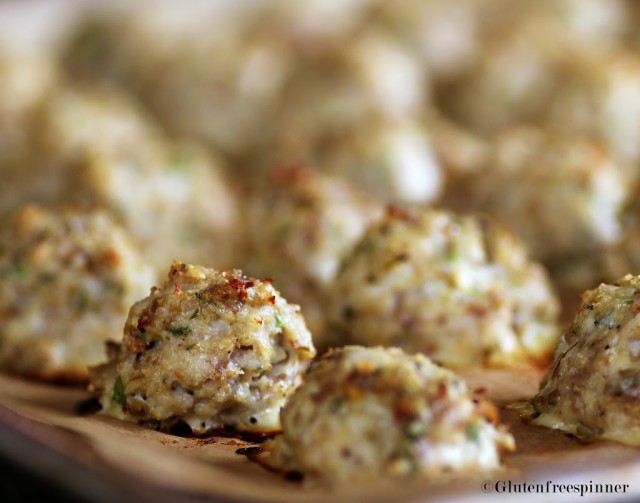 The recipe suggests adding the pasta to the soup uncooked so it thickens the broth. It probably works well with Semolina Pasta, but gluten free rice pasta is very starchy and leaves a milky coating so I just couldn't do it. I pre-cooked the noodles, just for a bit, to remove some of the starch then finished them in the soup.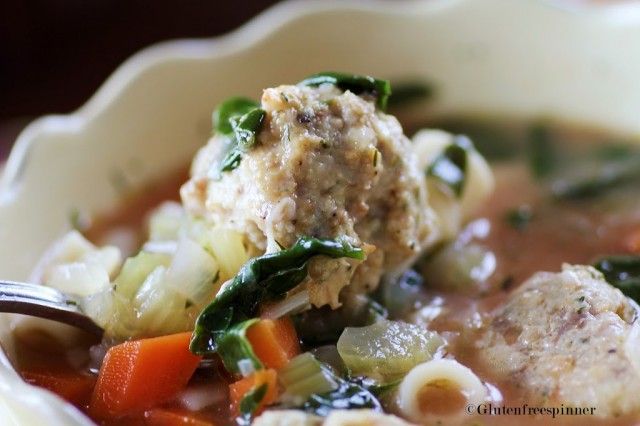 One of the wonderful additions to the original recipe is the baby spinach, both for color and nutritional value. The recipe calls for 12 oz and I only added 6, which I thought was plenty. With a few other tweaks my soup was finished and we anxiously filled our bowls. A sprinkle of Parmesan and fresh black pepper garnished the top before we took the plunge and tasted the warm comfort of our meatball soup.
It's hearty, flavorful, and satisfying.
Our blustery February snowstorm simmered to light flurries leaving a fresh blanket of pure white snow covering the fields again. It's beautiful, really, and brighter than the sunniest day in June.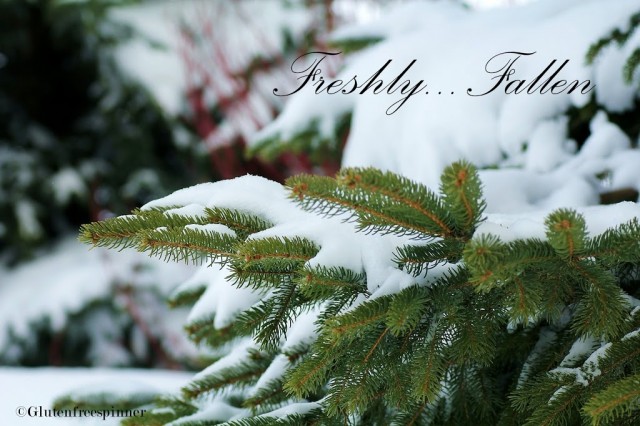 So I grabbed my camera and Jake, one of our French Brittany's, and headed out to capture a few glimpses of the winter wonderland.
Jake absolutely loved the fresh fallen snow, he was hopping around like a rabbit, darting in and out of drifts. In the picture below, he jumped behind the pine tree and was peeking at me through one of the bough's. He was so funny, and all you could see was his beautiful brown and white fur amidst the blinding white snow. He was playing hide-n-seek.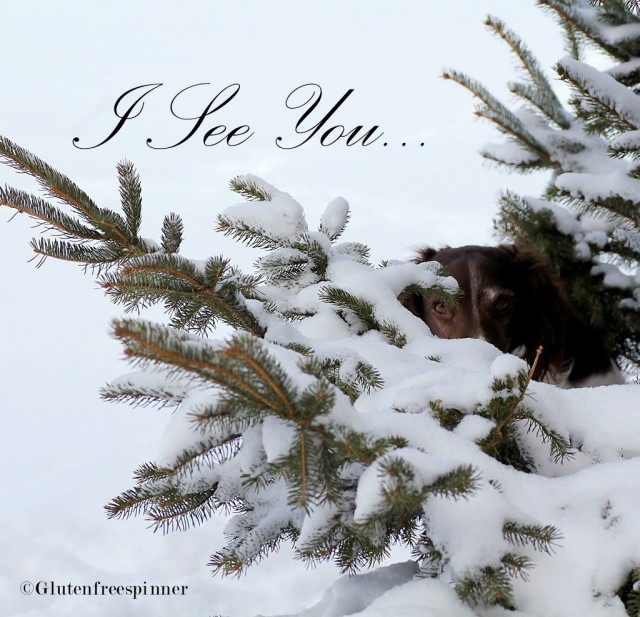 At one point he jumped out in front of me and pretended to look straight ahead while his eyes were peeking at me from the side…(see below) pretty sneeky…hahaha….so funny.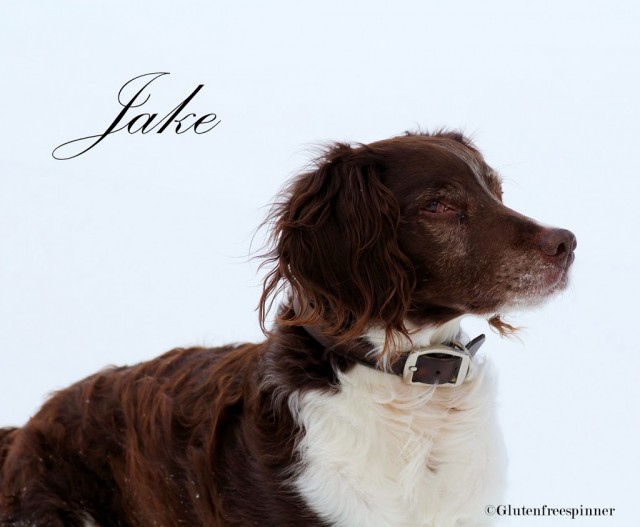 Enjoy these last few days of February and snuggle in with your sweetie and a comforting bowl of Soup.
Here's to Love, Cooking, Eating, Sharing…Happiness.
Adapted from Barefoot Contessa's Back to Basic's
Meatballs:
2 slices multi grain gluten free bread, pulsed in to fresh bread crumbs

¾ lb ground turkey breast

½ lb Italian Turkey Sausage, casings removed (about 2 sausages)

2 cloves minced garlic

3 Tbsp chopped fresh parsley

¼ cup freshly grated Parmesan Reggiano cheese (either with a microplane or food processor)

¼ cup grated Parmesan cheese

3 Tbsp milk

1 egg, slightly beaten

1 tsp grill seasoning

½ tsp fresh black pepper

¼ tsp fennel seed (measure carefully – it's strong)
Directions:
Preheat oven to 350 degrees. Line a large baking sheet with parchment paper.

Combine all ingredients together in a bowl and mix together with a fork, gently…don't over-mix. Drop with a medium sized scoop onto the prepared baking sheet, about 1" balls (you should have about 35-40 balls) and bake for 30 minutes until fully cooked and lightly browned. Set aside.

Soup:
2 Tbsp olive oil

1 tbsp butter

1 large Vidalia onion, chopped

3 carrots, diced

2 stalks celery, diced with greens

1 tsp fine sea salt

½ tsp fresh ground black pepper

1 tsp Urban Accents Roma seasoning (or your fav. GF Italian seasoning)

1 cup dry white wine

80 ounces organic gluten free chicken broth (1-48 oz and 1-32 oz container) or 10 cups

1 cup brown rice penne pasta (Trader Joe's are good or Tinkyada)

½ tsp dried dill weed

2 Tbsp grated Parmesan cheese

1-2 Tbsp tomato paste to taste

6 ounces baby spinach, washed and trimmed of stems, roughly chopped (not small)
Directions:
In a large heavy soup pot, heat the olive oil and butter and sauté the onions, celery, and carrots. As they begin to tender, add the sea salt, pepper, and Roma seasoning and continue to sauté for 1-2 minutes. Add the wine and allow to simmer for 2-3 minutes before adding the chicken broth. Continue to simmer on med-low.
Bring a medium sauce pan of lightly salted water to boil for the noodles. Once the water comes to a boil, add the noodles and cook ONLY for 5 minutes. Drain, but don't rinse, and add to the soup. Cook for an additional 5 minutes in the soup (on med-low) or until the noodles are al dente. Next, add the meatballs, dill weed, and 2 Tbsp Parmesan and taste the soup for seasoning adding salt and pepper as needed.

Add the spinach and stir into soup, cook for 1 minute. Ladle into bowls and top with fresh grated parmesan cheese and crack black pepper.