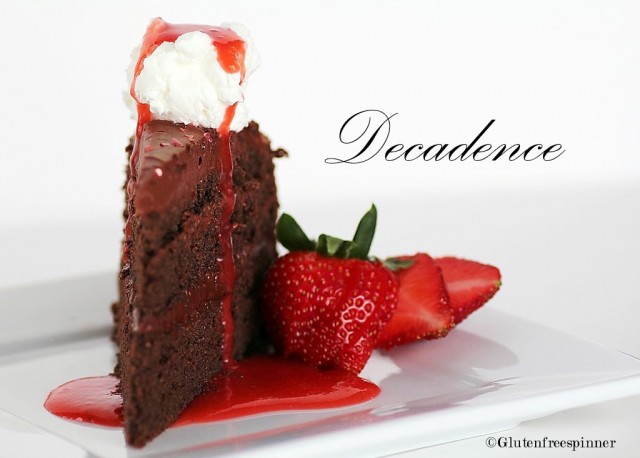 With Strawberry Orange Lime Sauce
Saturday night dinner with friends had me spinning in the kitchen all day and this dessert was my first preparation. I wanted a rich chocolate cake with silky chocolate frosting, and I also wanted to use the beautiful strawberries I bought the day before. I went to my Very Naughty Valentine Cupcake recipe for the cake as it was the perfect richness for this

dessert. But the frosting for this had to chocolate and it had to be amazing. I imagined a silky…shiny…almost ganache-like frosting but with more body.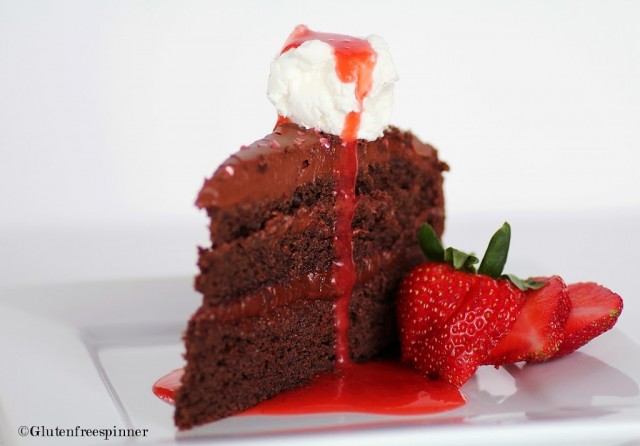 I saw a show on the Food Network where the frosting was the star of the cake. It had people oohing over it instead of the cake, which was perfect as I wanted the 'oohalicious' factor. They used two and a half sticks of butter, which I'm sure made it rich and wonderful, but I just couldn't add that much butter when the cake was already so rich. I find neufchatel cream cheese (1/3 less fat) works really well in place of all the fat of butter yet still gives the creaminess needed. I also learned a few Christmas's ago that Karo Syrup adds a beautiful shine to frosting when making sugar cookie cut-outs. So why not in a buttercream? It worked perfectly. After adding the last ingredient to the food processor, I opened the lid to find spun silk…and it made me smile.
My strawberry orange lime sauce is a variation of homemade strawberry preserves. Not as sweet, not as thick, and definitely smooth…no clumps of fruit. This had to be as silky as the frosting. It adds a fruity fresh zing to this dessert and cuts through the rich chocolate flavors. And…about that little dollop of whipped cream? Well, that's my detail issue, it just screamed "give me a little white fluff here…." It's not needed, but it did add a light creamy 'oooh' factor to the entire dessert.
So, indulge in a little decadence tonight, it does the body good.
The Cake:
Very Naughty Valentine Cupcake Recipe – use two 9″ non-stick layer cake pans and bake for 22-24 minutes…don't over bake, check at 22 and remove when done to the touch. Cool for 7 minutes and invert onto cooling rack until ready to frost.
Frosting:
Ingredients:
1 (8oz) pkg

neufchatel cream cheese (

1/3 less fat cream cheese)

1 stick butter, softened

¾ cup cocoa powder

1 cup confectioner's sugar

Pinch of sea salt

¾ cup light corn syrup

1 tsp vanilla

8 oz bittersweet (or semi-sweet) chocolate pieces, melted in microwave at 30 second intervals to start, then 10 seconds each time until melted. Stir and set aside to cool.

3-4 Tbsp brewed strong coffee
Directions:
In a food processor, process the cream cheese, butter, cocoa, sugar, and salt until smooth. Scrape the sides. Add the corn syrup and vanilla and process until smooth. Add the melted chocolate and the coffee and process until smooth and creamy. There is enough frosting to generously frost the two layer cake.
Strawberry Orange Lime Sauce:
Ingredients:
½ cup sugar

4 ½ tsp cornstarch

½ fresh orange, squeezed

1 whole fresh lime, squeezed

4 cups fresh strawberries, quartered
Directions:
In a medium saucepan, combine the sugar and cornstarch. Stir in the orange juice and lime juice mixing until thoroughly combined. Turn the heat on to medium and add the strawberries, stirring and bringing to a slow boil. Cover and reduce to low, checking and stirring often, until thickened and strawberries are soft.
Remove from heat and blend with an immersion blender. Cool and serve.
Pour a little strawberry sauce onto plate. Place a slice of cake on top of sauce, add a small dollop of fresh whipped cream, and drizzle more sauce over top. Garnish with a fresh sliced strawberry.