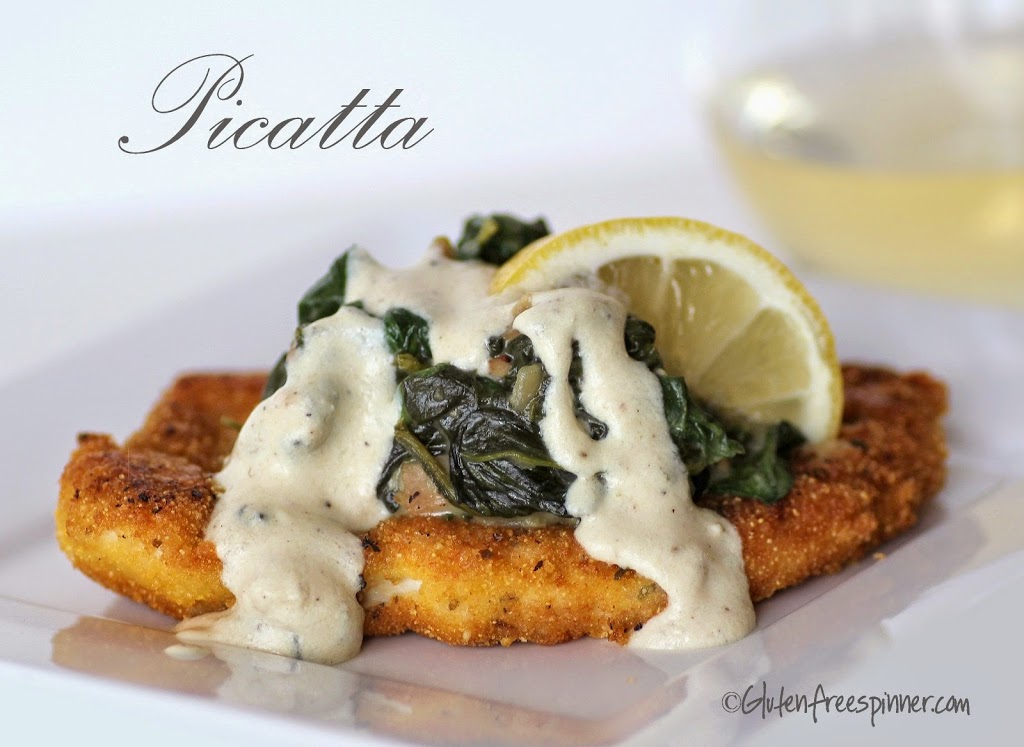 Chicken Picatta with Sauteed Spinach
Who doesn't love Chicken Picatta? Chicken breasts pounded thin, lightly breaded and cooked until a crispy golden brown. As I made this meal I wondered why all restaurants don't offer their breaded and crusted dishes with gluten free crumbs. Seriously. And to go one step further, they could omit regular bread crumbs all together using only gluten
free… which would allow their dishes to be inclusive to everyone. Ha! Great idea, right? I'm only half kidding, but we all know it's the first thing we shy away from when ordering out. The list of restaurants now offering gluten free choices continues to grow, many of which have an entirely separate menu, so no complaints here…but it was a good thought.
This meal can be time consuming to prepare, so I would recommend breading the chicken ahead of time and placing on a baking sheet covered with plastic wrap in the frig. Easily done the night before. Another option would be to serve the chicken picatta with just the mustard sauce and a side vegetable…but give the entire dish a try sometime, it's such a good combination.
Chicken picatta's main feature is the crispy crunch of the breading. My husband could barely contain himself not eating it right out of the pan…or, as he suggested, on a bun. (Hmmm, good thought for next time – if only there were decent GF buns.) But the key is seasoning the chicken well before breading along with cooking in a very hot pan. For the sauteed spinach, it comes together quickly with Canadian bacon, Vadalia onions, and Parmesan cheese. The mustard sauce adds another layer of yumminess with it's creamy flavorful tang and a hint of sweetness from the honey. Serve with a few lemons on the side for brightness and a glass of chilled pinot grigio or sauvignon blanc.
Chicken Picatta
Ingredients:
4 boneless skinless chicken breasts, pounded to ½" thick

Sea salt

Pepper

1 Tbsp Italian Seasoning (I really like Urban Accents "Roma")

1 tsp garlic powder

1 tsp onion powder

½ tsp lemon pepper

1 Tbsp dried parsley (or 2 Tbsp fresh chopped)

½ cup all purpose GF Flour

2 Eggs Beaten

¾ cup GF dry bread crumbs

¼ cup grated Parmesan cheese

3-4 Tbsp canola oil
Directions:
Lightly season both sides of the pounded chicken breasts with sea salt and pepper.
In a small ramekin, add the Italian seasoning, garlic powder, onion powder, lemon pepper and parsley and mix to blend. Sprinkle over both sides of the chicken breasts.
Set up your breading station of 3 shallow bowls, one with the flour, one beaten eggs, and one with the bread crumbs mixed with the Parmesan cheese.
Dredge the seasoned breasts in the flour, both sides. Then dunk in the egg and lastly the bread crumb/Parmesan mixture. Continue with each chicken breast until all are breaded. If the chicken breasts are really big, you can cut them in half at this point for easier cooking.
In a large skillet on medium high heat add the canola oil and heat until the oil sputters when a few drops of water are added. This will ensure it's hot enough to make the chicken crispy and not greasy. Add the chicken one at a time and don't over crowd. It depends on the size of your pan and your chicken breasts as to how many to do at once. Continue to cook the one side until very golden brown and crispy, 5-7 minutes, before turning. Adjust the heat if it seems too hot and the chicken is getting dark too fast. Once both sides are done, remove and place on a plate with paper towels, lightly salt and pepper while hot, and keep warm (in oven on low) until all the chicken is cooked.
While the chicken is cooking, start the sautéed spinach and Mustard Sauce
Sauteed Spinach
Ingredients:
1 Tbsp butter

1 Tbsp olive oil

1 small vidalia onion, diced

1-2 cloves garlic – minced

2-3 slices Canadian bacon, diced

2 Tbsp white wine

¼ cup chicken broth

2 Tbsp lowfat half and half

Fresh black pepper (shouldn't need salt)

4-5 cups fresh baby spinach, long stems removed

¼ cup grated Parmesan cheese
Directions:
Saute the onion and Canadian bacon in the heated butter and olive oil until it begins to tender. Add the garlic and continue to sauté for another 1-2 minutes. Add the wine and allow to bubble for 2-3 minutes. Add the chicken broth, half and half, and pepper and cook for 3 minutes. Add the spinach and lower the heat to low and cover for 1 minute, stir, and cover for another minute. Add the Parmesan cheese and toss into the spinach to combine. Serve over top of the chicken picatta.
Mustard sauce
Ingredients:
2 Tbsp butter

2 Tbsp Dijon Mustard

1/2 cup sour cream

Pinch salt and pepper

1 tsp fresh lemon juice

1-1 ½ tsp honey (to taste)
Directions:
In a small saucepan heat the butter on low until melted and add the Dijon mustard. Stir until combined and add the sour cream, salt and pepper, and honey. Keep warm until ready to serve.