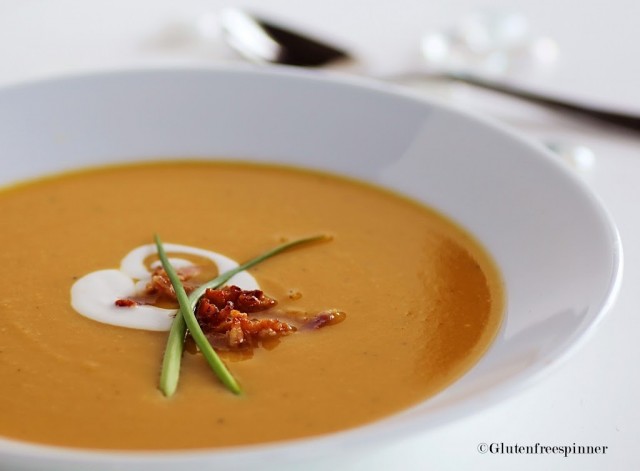 Butternut Squash Soup with Vanilla and Bacon
A few weeks ago the girls and I went out for dinner to a hot new restaurant in Minneapolis called Bar La Grassa. It had been hyped in the local news and on twitter because of an incident where a t.v. celebrity's concierge called to make a reservation for that evening only to be told by the Restaurant Manager that they were booked.  The celebrity expected preferential treatment, and when he didn't get it, he tweeted about it complaining about this amazing restaurant. 
Cheers to the Manager, Michael Lecy…w

hat a great tribute to the restaurant and the loyalty to their customers!
What is a t.v. celebrity anyway?  In my book it's another person working at their chosen career, (yes, making waaaay more $$), but no better, no worse than anyone else.
Why would they receive preferential treatment over the customers who already had reservations?  Craziness.
Anyway, as we ordered a bottle of wine and the server explained the gluten free items on the menu, I zeroed in on the Butternut Squash Soup with Burrata.  Having heard rave reviews about everything they served at BLG, I was dying to try this soup.  As the server went around the table and poured our wine, she commented to us, "I remember the four of you from about six years ago when you dined at Campiello, I was your server then too."  Wow, can you imagine how impressed we were that she had remembered us?  We wondered what we had done to make that sort of an impression. We dine out together often and are sure to compensate our server, but that couldn't possibly be enough to remember us.  Whatever it was, her name is Michelle and she is first class.
The soup was served just after the appetizers and was garnished with Burrata, which is a fresh Italian cheese made from mozzarella and cream.  It was creamy, rich, and had a hint of sweetness from something I couldn't distinguish, and it was dreamy good.  When Michelle first explained the flavors prior to ordering, she mentioned it had an onion broth base, which you really could taste in the background…like a french onion sort of taste.  I absolutely loved it, so much that it was the inspiration for my soup today.
For the base of my soup I used both vegetable and beef broth, knowing french onion soup's richness comes partly from using beef broth.  If you wanted to keep this vegetarian, just use all vegetable broth.  From there I added sweet Vidalia onions, minced garlic, and a few other flavor ingredients and allowed the broth to simmer until it was infused as an onion broth.  It has wonderful flavor…perfect for this soup.
Next came the roasted squash and apple, to which I also added the sweetness of corn…a nice combination.  It tasted great, but I wanted a little more richness, a hint of sweet richness and not from the traditional cloves, nutmeg or cinnamon that many add to butternut squash soup – I'm not a fan. This had to be different, and that's where I thought about vanilla.  But how would I add vanilla flavor?  Certainly not with extract, that wouldn't work, so how about vanilla yogurt.  Not wanting to add the calories and fat from cream, yogurt was a perfect solution all the way around.  It added a nice, rich, subtly sweet flavor that isn't distinguishable, but definitely noticeable in rounding out the flavors.  It's a perfect combination when you think about it.
For a final garnish, what could be better than the saltiness of bacon crumbles…over the top yummy goodness.  It might not be Bar La Grassa's butternut squash soup with burrata, but it's pretty darn good.
Ingredients:
1 medium organic butternut squash, peeled and cubed 

1 apple, peeled and cubed

Olive oil, salt and pepper

1 large Vidalia onion, chopped

2 Tbsp Olive oil

1 Tbsp Butter

2 cloves garlic, minced

1 (32 oz) organic vegetable broth

1 cup beef broth (if want to keep vegetarian, just add more veg broth)

1 tsp sea salt

1 tsp onion powder

1 tsp fresh ground black pepper

1 bay leaf

2 Tbsp brown sugar

2 Tbsp grated Parmesan

1 cup frozen  corn

1 (6 oz) container GF vanilla yogurt  (I didn't use Greek as I was unsure of the tang, but give it a try)
Directions:
Heat oven to 375 degrees
Spray a large baking sheet with non stick spray and add the cubed squash and apples.  Toss with olive oil and add salt and pepper.  Roast for 25 minutes or until squash is tender.
Meanwhile, in a large heavy soup pot, sauté the onion and garlic in the 2 Tbsp olive oil and 1 Tbsp butter until the onion becomes tender.  Add the vegetable broth, beef broth (or add'l veg broth) sea salt, pepper, onion powder, bay leaf, Parmesan, and brown sugar.  Simmer, covered, on low for 15 minutes.
Add the roasted squash, apple, and the corn to the soup pot with the broth.  Stir to combine and cover, continuing to simmer on low for another 15 minutes.
Remove the bay leaf and puree with immersion blender until all ingredients are smooth.  Add the yogurt and stir to combine.
I like my butternut squash soup to be completely smooth so I strained it through a mesh strainer making it silky and rich.  It's one extra step, and a messy one, but If you don't mind a little texture from the corn, you don't need strain.
Garnish with crumbled bacon and green onions.