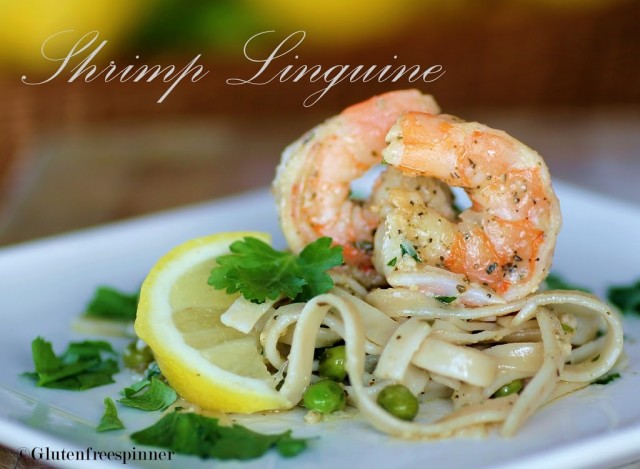 Shrimp Linguine with Sweet Baby Peas
First let me apologize for the lag-time between a new posting
! I've been working on a photoshoot project and was so happy to finally get back in the kitchen today to post a new recipe. I love a carefree morning that allows time to stroll into the kitchen with my cup of hazelnut french roast coffee to plan my next recipe.
As I scuff across the floor in my furry slippers and white chenille robe, I feel grateful for these days and the many blessings I enjoy. All would be right with the world (IMHO) if we could just spend time preparing delicious healthy meals for those we love. Yes? Well, it would for me anyway, being the foodie I am, it would suit me just fine. But since I contribute to the mortgage and grocery bill, I will cherish those carefree days as they come and continue to partner with my husband in 'bringing home the bacon'. (Did I really just say that?)
Shrimp Linguine with Sweet Baby Peas is one of my all-time favorite dinners. This was the first time I actually held back from devouring the dish before taking a picture to share with you! Ha! In my recipe, I season the shrimp before adding to the hot pan as I found the traditional recipes a bit bland. The blend of spices I use is mild yet adds wonderful flavor to the entire dish. You'll start by sauteing
the garlic and shallots in butter and olive oil that fills the room with aroma's of something wonderful to come.
Then a gentle sear on both sides of the shrimp, just until pink and plump, before adding the wine and butter. As you see the sauce coming together you'll know you're in for a treat. The final surprise is sweet baby peas that add a splash of color and a 'pop' of freshness to every bite. Let me tell you…it's hard to resist. Enjoy with a glass of Pinot Grigio or Sauvignon Blanc for a light and easy dinner for two. A side of gluten free garlic toast is also a nice finishing touch.
½ lb brown rice linguine noodles (I like Tinkyada)

12-15 medium sized shrimp, peeled and deveined, tails removed is optional

4-5 Tbsp olive oil (divided throughout recipe)

4 Tbsp butter (divided throughout recipe)

½ tsp lemon pepper

¼ tsp garlic powder (not salt)

¼ tsp Urban Accents Roma Seasoning (or Italian Seasoning)

1 large shallot chopped (about 2 Tbsp)

1 large clove garlic minced or 1 Tbsp

1 Tbsp fresh chopped basil (or 1 tsp dried)

Pinch of red pepper flakes

½ cup dry white wine

½ fresh lemon squeezed

Fresh chopped Italian Parsely

3 Tbsp grated Parmesan Cheese, plus more for topping

¼ cup frozen sweet baby peas, thawed

Fresh black pepper
Directions:
Cook the pasta to package directions. Drain and Rinse, add back to the pan and toss with olive oil to keep from sticking. Cover pan to keep warm.

Blend the lemon pepper, garlic powder and Roma seasoning and toss into shrimp. Drizzle with 2 Tbsp olive oil and toss to coat. Set aside.

In a large skillet over medium heat, add the 2 tablespoons butter and 2 tablespoons olive oil. When the butter is melted, add the shallots, garlic, basil, and red pepper flakes until the shallots are translucent, about 3 to 4 minutes. Add the shrimp to the pan and cook each side just until pink, about 2 to 3 minutes. Remove the shrimp from the pan and set aside and keep warm. Add the wine and lemon juice and bring to slow simmer…reducing for about 3 minutes. Add 2 tablespoons butter. When the butter has melted, return the shrimp to the pan along with the parsley, parmesan, and the peas. Toss in pan to coat the shrimp and heat the peas, about a minute or two.
Serve over the prepared linguine noodles and top with grated Parmesan and fresh ground black pepper. You can also add more red pepper flakes if you like spicier flavor. The sauce should be a little thin to coat the linguine noodles, however if you like a thicker sauce you can add one more Tbsp of butter while it's off the heat and allow to melt into the sauce.