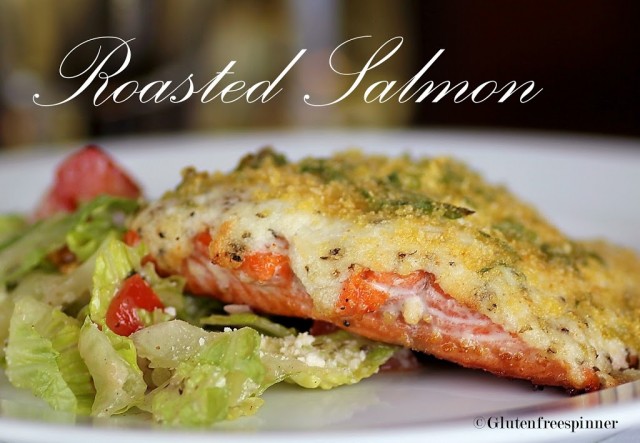 Roasted Salmon with Cheesy Crusted Topping
My first experience with salmon was at the wedding of a good friend at the age of 22. The venue for the reception was a first class historical hotel where only the elite dined or held events. Being a member of the wedding party allowed for seating at the raised 24 foot table at the head of the ballroom. The table was beautifully decorated with towering floral centerpieces and silk ribbons of black and gold.
Not having grown up with such extravagance, it was all a bit intimidating to me, especially when the dinner arrived in 7 courses. But my four closest friends and I had the time of our lives, watching and witnessing the elaborate show that each of us had been invited to be part of. We smiled for the camera's in our shiny black taffeta dresses and drank expensive champagne all night long. We were awestruck just being a part of this celebration.
Ahhh yes, about that seven course dinner. I hardly remember the first several courses, but I'll never forget the main. It was poached salmon with caviar…Uck! Who eats this stuff? We all had the same reaction and tried to stay composed as the initial stench of this pink fishy piece of food lay upon a dollop of mashed potatoes and was topped with tiny orange shiny balls of gel. Uck! Haaaa…to think back now is a great memory to be sure, it still makes me laugh. I never ate salmon again…well, not for 20 years anyway.
Salmon is now one of my favorite foods and I love it prepared almost any way possible. It's ironic to think that my first introduction to this beautiful pink flaky fish had me vowing never to eat fish – of any kind – again. Now I order it almost every meal when dining out. But as wonderfully delicious as salmon is, it's a very strong fish and introducing it to someone for the first time takes a bit of thought.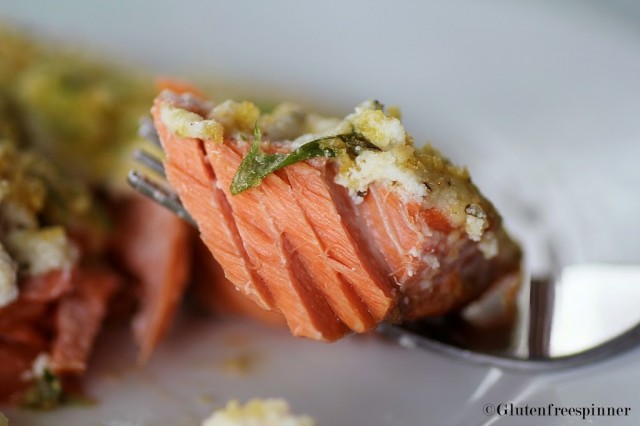 When I serve salmon to someone for the first time I have two suggestions that have worked beautifully. First, serve farm raised salmon over sockeye or Coho. Now, this is JUST for the first time someone tastes salmon. Please don't shun me for suggesting farm raised, I know it doesn't have the nutrition value, but it is much milder and it allows the newbie to be introduced to the flavor of salmon, gently

. A friend of our family wouldn't eat fish of any kind, and I prepared her a meal with a farm raised grilled Teriyaki fillet of salmon for dinner…she loved it. Seriously. She let us know weeks later that she even ordered it out for dinner at a company gathering. That is success when introducing someone to salmon.
My second suggestion is not to serve it poached. Prepare it grilled or roasted so there's a little outer 'crust' of flavor while the inside stays wonderfully moist, tender, and flaky. And my husband's requirement for salmon is that it must always be served with mashed potatoes. Ha, that is true for him…for me, I love it any way with any side. Yum.
I hope you enjoy my new salmon recipe. A simple skinless fillet of salmon topped with a Ricotta-Parmesan layer of cheesiness, then sprinkled with a bread crumb mixture before it's roasted to a golden brown goodness. An easy, delicious dish.
2 – 7 oz skinless salmon fillets, rinsed and patted dry with paper towel

2 Tbsp part-skim ricotta cheese

2 Tbsp olive oil

1 1/2 tsp Cardini's Italian Dressing

1 1/2 Tbsp grated Parmesan cheese

1/2 tsp oregano

1/2 tsp garlic powder
2 Tbsp dry gluten free bread crumbs

1 scallion, chopped

1 Tbsp grated Parmesan cheese

Drizzle of olive oil
Heat the oven to 375 degrees and lightly spray a baking sheet with non-stick spray.
Mix the cheesy layer ingredients together until creamy. Lightly season the salmon fillets on one side with sea salt and fresh ground pepper. Spread the cheesy layer over the top of both fillets.

Mix the topping ingredients together and sprinkle over the top of cheesy layer. Drizzle a little olive oil over the top of each and place on prepared baking sheet. Roast in the preheated 375 degree oven for 12-15 minutes, depending on the thickness of your fillet.
Remove from oven and serve with a simple side Italian salad. Delicious!