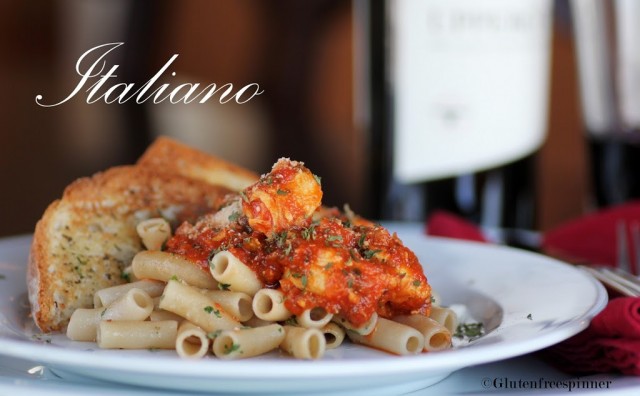 Penne Chicken Italiano
This recipe is a cross between Chicken Cacciatore and a good ol' spaghetti dinner. We love penne noodles for the way they lock the sauce into their little absorbent tubes. They are exceptional when paired with a thick sauce like this as they hold up to the rich chunky ingredients. A friend asked if I would make a few quick and easy recipes for weeknight meals, and this meets those requirements. With the help of an organic pasta sauce, this is so quick to pull together and you'll never know it wasn't a homemade sauce. Just be sure to choose an organic gluten free sauce.
Traditional chicken Cacciatore is usually prepared with chicken thighs and is breaded in flour prior to sauteeing. I don't see the need for breading the chicken and I use chicken breasts cut into bite sized pieces. It so easy…just season the chicken with the blend of spices and lightly saute in olive oil, garlic, and onions. Add the sauce and a few other enhancing ingredients and simmer until the chicken is tender and the sauce is thick and flavorful. Serve over penne noodles and add a generous amount of grated Parmesan cheese and fresh chopped parsley….waalaaa…dinner is served!
Brown rice penne noodles cooked to package directions

3 boneless skinless chicken breast halves, cut into bite sized pieces

1 tsp fine sea salt

1/2 tsp black pepper

1/2 tsp garlic powder

1/2 tsp onion powder

2 tsp Italian Seasoning blend like McCormick's Perfect Pinch (or use a oregano, basil, marjoram, and thyme blend)

2 Tbsp olive oil

1 medium onion, diced

2 cloves garlic, minced

1 – 25 oz jar of your favorite organic pasta sauce

1 – 14.5oz can Muir Glen Fire Roasted Crushed Tomatoes

1 Tbsp brown sugar

Pinch of red pepper flakes

1/2 cup grated Parmesan cheese – divided

Chopped fresh parsley
Directions:
Prepare the brown rice penne noodles according to package directions, rinse, drain, add back to the pan and toss with a bit of olive oil to keep tender until ready to eat. Cover to keep warm.
In a small bowl, combine the sea salt, pepper, garlic powder, onion powder, and Italian seasoning to create one seasoning blend. Toss the chicken pieces with the seasoning blend until all pieces are coated. Heat the olive oil in a large saute pan over medium heat and add the chicken. Saute the chicken pieces in the olive oil and as they start to brown, add the onions and garlic. When the onion starts to soften, add the pasta sauce, crushed fire roasted tomatoes, brown sugar, red pepper flakes, and 1/4 cup grated Parmesan cheese. Combine all ingredients well and once the sauce begins to simmer, reduce heat to low, cover, and allow to simmer for 15-20 minutes, stirring every so often.
Taste the sauce for seasoning and serve over the prepared penne noodles with a dusting of the remaining Parmesan cheese and chopped parsley. Serve with gluten free garlic toast and a light Italian salad.