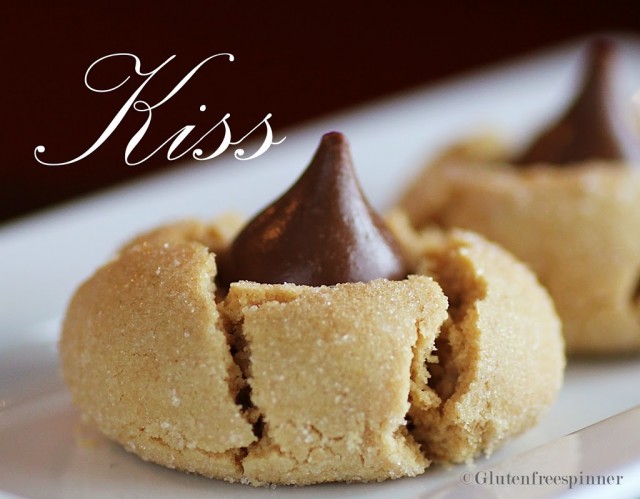 Peanut Butter Blossoms
One of our favorite Christmas cookies is the traditional peanut butter blossom, it's the one cookie that gets ooooh's and aaaah'ss every time I make them. So at the prompting of my daughter, gluten free peanut butter blossom's filled our home this weekend.
A few notes: I always use parchment paper for cookies, the bottom never burns and they cook evenly.  The cookies turned out beautifully, moist, chewy and delicious.  Don't forget to roll them in sugar before baking…my son believes this makes all the difference in the success of these cookies.  We also discussed that you must use the Hershey's Chocolate Kisses…no substituting…only the best.

Peanut Butter Blossoms
Author:
Gluten Free Spinner
Ingredients
36 kiss Milk Chocolates, unwrapped
1 cup Creamy Peanut Butter
⅓ cup granulated sugar
⅓ cup packed light brown sugar
½ teaspoon vanilla extract
½ teaspoon baking soda
¼ teaspoon salt
1 egg
⅓ cup additional granulated sugar for rolling
Instructions
Heat oven to 350°. Unwrap the kisses and set aside.
Beat peanut butter, granulated sugar, brown sugar, vanilla, baking soda and salt in large mixing bowl.
Add egg; beat well.
Shape dough into 36 equal balls (about 1 inch). Roll in granulated sugar; place on ungreased cookie sheet.
Bake 8 to 10 minutes or until lightly browned. Immediately press a chocolate into center of each cookie; cookie will crack around edges. Remove from cookie sheet to wire rack. Cool completely. Makes 36 cookies.
This recipe is from
Hersheys
…..it's the best.