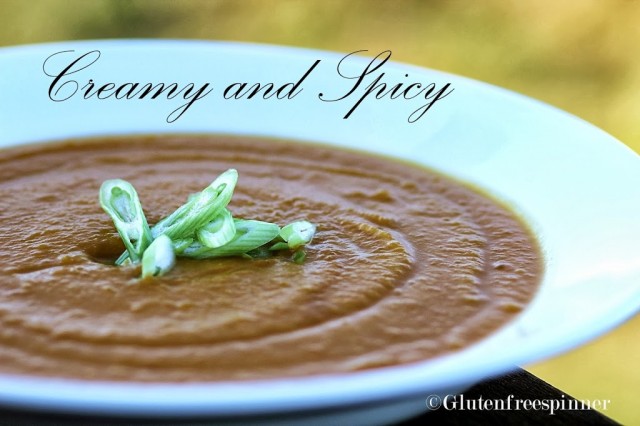 Red Curry Butternut Squash Soup
Today I'm sharing a weekend road trip where I had the pleasure of visiting a little cafe that served the best butternut squash soup I've ever had. This Red Curry Butternut Squash soup is my version of that soup, and I'm proud to say it's every bit as good…the only thing missing is the ambiance of that adorable cafe. I combined butternut squash with the sweetness of an apple and added the Thai flavors of Red Curry, soy sauce, and Sriracha sauce and ended up with a thick creamy satisfying soup.

A friend of mine lives near Menomonie, Wisconsin in a gorgeous country home on over 5 acres of farming land. Last year a few of us girls who all grew up together took off for the journey to our childhood friends home for a "spa weekend". We're not sure why we called it a spa weekend, perhaps because we were getting away for relaxation and time together in a remote location. And honestly, by the end of the weekend, it deserved the name as we felt like we'd been to a spa.
Our drive to her home on that sunny Autumn day was filled with conversation and laughter, and the views along the way offered an amazing balance of rolling hills and open land. I was taken by the beauty of it all… asking them to stop along the road so I could photograph the scenery.

Each scene was more spectacular than the next and I instantly felt connected to this way of life…living and farming this beautiful country. This was the first time to visit her home as she had just purchased it the year prior. She would tell us about her garden, her chickens, and the renovations to her home, yet we had no idea how special it was until we arrived. We were so happy for her and this new life she was now enjoying.


We spent the weekend catching up on life, love, family, work, and just spending time together. We picked fresh produce from her garden and prepared dinner together, we drank wine and had happy hour… for hours…and talked of old times and childhood memories.



We sat in the hot tub amongst the stars and snuggled into cozy country beds in her beautifully renovated home. It was truly a special "spa" weekend. When the light of day shone over the rolling hills on Sunday morning, we didn't want the weekend to end. Surely there was one more adventure for us…and the name of that adventure was in the town of Alma. I Love-Love Alma, Wisconsin.




This is the picture of the Alma Bakery….seriously, this is the way it is when you walk in the door. I loved it. We ordered 'muffin tops' and wild rice bread. (Of course, this was also my life prior to learning of my gluten allergy.) It was like taking a step back in time and it couldn't have been more refreshing. For lunch we stopped at a little cafe called "Kate and Gracie's" and sat outside on a little stone paver patio that echoed the feel of the bakery. This is where the inspiration came for my Red Curry Butternut Squash Soup.



The server said the soup of the day was butternut squash that had a little 'kick'. We all ordered it as a side to our sandwich, and it proved the favorite part of our meal. The iced tea was our drink of choice and surely it was prepared in a glass jar and set out back on the porch for the sun to do it's magic. A year later, I can still remember how good the meal was, especially the soup. Today, from memory, I made my version of that special soup at Kate and Gracie's, and I'm sharing it with you. The best part is how easy it is to make. The slow cooker does all the work while an immersion blender creates the creamy richness of this flavor-punch soup. The Red Curry and the Sriracha Sauce add a nice kick, but not so much that you lose the buttery nutty flavors of the squash. I was "mmmmming" with pride as I tasted the first spoonful…not a thing was needed, it was so very good. One side note: Follow the recipe as listed…a friend of mine added more Sriracha sauce than the 1 tsp listed and it was much too spicy to taste the deliciousness of the soup. Just a little is all you need…1 tsp… Enjoy!


** 10-2013 – I've revised my recipe to include unsweetened organic coconut milk at the end of cooking to replace the cream in original recipe. It was a happy mistake as I added waaaay too much Sriracha Sauce today and it was SPICY-HOT!! I could barely eat it so I added coconut milk to 'cool it down'. What a wonderful happy mistake as I will now always use the coconut milk in the recipe (without the overflow of Sriracha!) It's sooooo amazing! Enjoy!

Ingredients:
Butternut squash, peeled, seeded, chopped – about 2 lbs

1-14 oz can Red Curry (AROY-D) (available in the Asian section of your market or if you can't find, combine 1 Tbsp Red Curry Paste, 1 small can Coconut Milk, and enough chicken broth to equal the 14 oz) check ingredients

1 chopped onion (1/2 cup)

1 apple, cored and seeded, chopped

2 cups chicken broth

1 tsp minced garlic

1 Tbsp brown sugar

1 Tbsp organic tamari gluten free soy sauce

1 tsp Sriracha sauce (Asian chili sauce) measure carefully, this is spicy

1 tsp Urban Accents Asian Pepper Market seasoning
Add after immersion blender:
Little salt and pepper to taste

1/4 cup angle sliced green onions

1/2 cup Organic Unsweetened Coconut Milk

(Replaces the 4 Tbsp heavy cream in my original recipe)
Directions:
Place all ingredients in slow cooker (not heavy cream). Cover and cook for 2 ½ – 3 ½ hours on high or 6-8 hours on low (until squash is soft enough to blend).

Blend the soup ingredients with an immersion blender until smooth and creamy. Add a little salt and pepper to taste and the 1/2 cup unsweetened coconut milk. Serve warm and garnish with angle-sliced green onions.

If you don't have an immersion blender, you can blend in batches in a standing blender or food processor. The immersion blender is so much easier, it's worth the purchase.