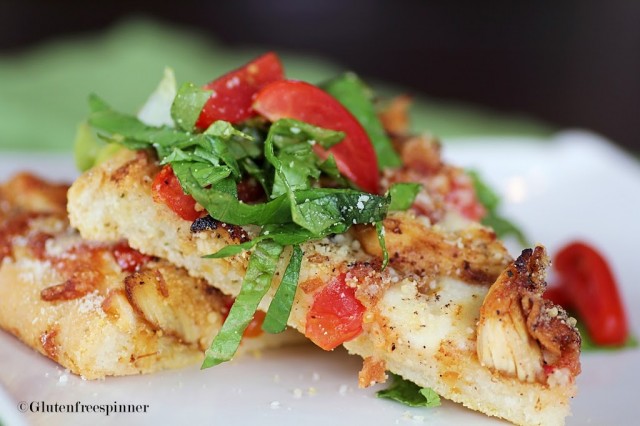 Hmmm, the flavors of a Chicken Caesar Salad in a pizza? Oh Yes!
Bisquick came out with a Gluten Free Mix (hooray for Bisquick) and my first test was a pizza crust. I love seeing the many new products now available that make everyday dinners so much easier. Bisquick was a staple in my pantry prior to living gluten free, and although I didn't use it often, I have a few go-to recipes where it's a needed ingredient. Today, it's a new recipe, Chicken Caesar Pizza.
The dough was very easy to make, it's the actual crust that takes a few easy techniques to have success. My first attempt was to spread the dough on my cornmeal dusted cutting board (wood). It was beautiful with pizzeria style edges, however once I tried to slide it onto the baking stone, I was reminded that gluten free dough is never really a 'dough' as there's no elasticity; it's actually a batter. I should have remembered this from my many first attempts at GF bread. So, I scooped-up my crust into a batter ball and placed it directly on the baking stone that I had dusted with cornmeal. I re-shaped the crust just as I had before, and once again it looked lovely. A little olive oil on the hands helps with this step.
This crust needs to pre-bake 15 minutes prior to adding the toppings (per instructions on the Bisquick box). Then the fun begins. I used Cardini's Caesar Dressing for the pizza sauce, and being the crust was hot, it allowed for easy spreading as I didn't want too much (start with 2 Tbsp and add as needed). Next I loaded it with Mozzarella cheese, shredded chicken, crumbled crispy bacon, red onions, tomatoes, and Parmesan cheese…and of course, fresh ground black pepper. Back into the oven it went for 13 minutes until the cheese was a bubbly golden brown.
Just before serving I topped it with more Parmesan cheese, black pepper, and shredded romaine lettuce. Yummmy Yum! And so very easy.
Ingredients:
1 1/3 cup gluten free Bisquick

½ tsp Italian Seasoning

2 Tbsp grated Parmesan cheese

½ cup water

1/3 cup canola oil

2 eggs, beaten

2 Tbsp cornmeal for dusting

1 Tbsp Olive oil
Topping:
2-3 Tbsp Cardini's Caesar Dressing (depends on size of pizza)

1 ½ cups shredded Mozzarella cheese

1 cup cooked shredded chicken breast

3 Tbsp cooked crumbled bacon (optional)

½ cup chopped tomatoes

2 Tbsp chopped red onion

2 Tbsp grated Parmesan cheese

Fresh ground black pepper

Shredded Romaine Lettuce
Directions:
Preheat oven to 425 degrees
Mix all ingredients together with a whisk and pour onto greased pan or pizza stone that has been dusted with cornmeal. Sprinkle the top of dough with a little olive oil and gently press out to the size and thickness of your pizza crust. Create sides too if you like a thicker crust.

Place in preheated oven 425 degree oven for 15 minutes.

Remove from oven and spread the Caesar dressing over crust. Start with 2 Tbsp, you don't want too much. Top with the mozzarella cheese, then the chicken, bacon, tomatoes, and red onion. Top with the Parmesan cheese and fresh black pepper.

Return to oven and bake an additional 13-15 minutes until the cheese is bubbly and golden brown. Top with shredded Romaine lettuce and fresh Parmesan cheese.