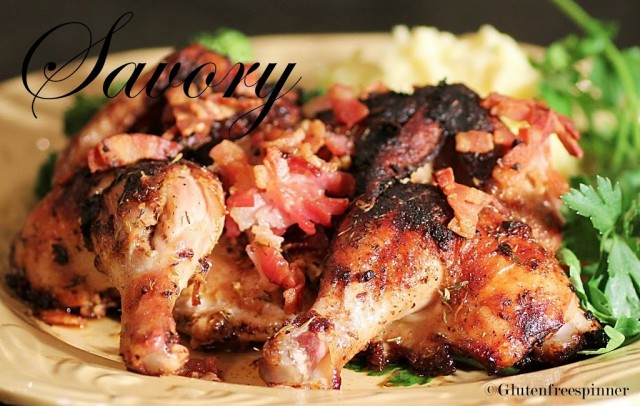 Butterflied Cornish Game Hens
I woke Saturday morning to blustery winds and seven inches of snow on the ground. It's our first snow of the season and the heavy wet snow covered the bows of the pine branches bending them almost to the ground. The Maple Tree's were coated on the north side of their branches from the blowing icy snow, and all of this was surrounded by the

open water of the pond, rippling in the wind and making for a beautiful landscape. My husband was returning home from a bow hunting trip, and my plan was to make a special dinner for just the two of us Saturday night. With the fireplace flickering and winter white shadows of snow covering the windows, comfort food was definitely on the menu.
Cornish game hens are one of his favorites, and we've talked about trying them butterflied. I always resisted, thinking it would be like boning a chicken (which I've never done), only to find it's easy to butterfly these little guys. Then for the seasoning, I simply used my favorite roasted chicken seasoning, Famous Dave's Country Chicken, as there's no need for six different spices when this safe blend has it all. I added fresh lemon juice, a touch of thyme, and a final sprinkle of olive oil. Then off to the refrigerator they went until ready to prepare.
Searing the hens skin side down before baking is the key to this recipe. They become a deep golden brown, and once they are flipped, they are basted with a buttery garlic thyme sauce and topped with chopped bacon. From there the high heat of the oven does the rest of the magic by crisping the bacon and roasting the hens.
This is a very easy recipe with an entertaining presentation. The flavors are savory and the hens are moist and tender. Pair with mashed potatoes and steamed broccoli for a beautiful Saturday night dinner. Don't forget the glass of white wine, and of course make mini cheesecakes for dessert. Simply delicious.
Ingredients:
2 Organic Cornish Game Hens – Butterflied

2-3 Tbsp Famous Dave's Country Chicken seasoning

½ tsp Thyme

Squeeze of ¼ lemon

Olive oil

4 Slices of Bacon Chopped

2 Tbsp canola oil
Baste:
3 Tbsp melted butter

½ tsp minced garlic

¼ tsp thyme
Directions:
With a sharp knife, cut down both sides of the spine, pulling it out as it loosens and discard. Next, split the breast bone with the knife from the inside and open/flatten each bird and trim the neck area to remove any extra skin. Rinse under cold water and pat both sides dry with paper towel.
Place the butterflied hens on a large baking sheet and season both sides with the Country chicken seasoning. Next, sprinkle with the thyme, lemon juice, and a final sprinkle of olive oil over both sides. Cover with plastic wrap and place in the refrigerator until ready to prepare. If making immediately, continue with the following directions.

Preheat oven to 425 degrees
Remove hens from refrigerator. Add 2 Tbsp canola oil to large saute pan and heat over medium-high heat. Sear the hens, skin side down, until the skin caramelizes and turns golden brown and crispy, about 6-8 minutes. Flip birds over and brush with the basting sauce, then sprinkle the chopped bacon over the top. Place in preheated oven to finish cooking, 32-35 minutes. Let rest 10-12 minutes before serving.
Serve with mashed potatoes and fresh steamed broccoli.