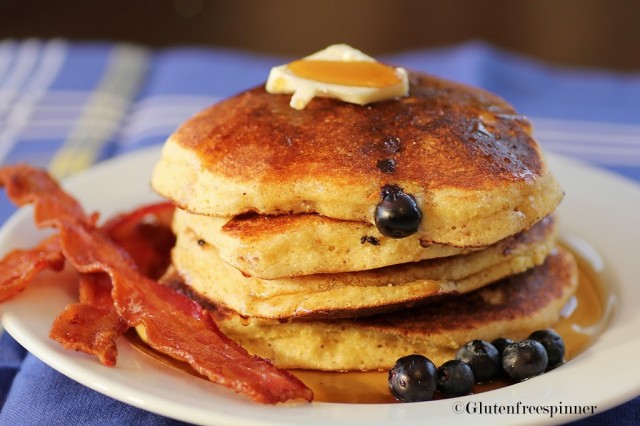 Blueberry Corn Cakes
"Old Fashioned", is the first thing my husband said about these pancakes.  They are fluffy and slightly crispy on the outside and edges…like his 'Granny' use to make.  Neither one of us are huge pancake fans, however with the freezing rain that left a blanket of ice on the roads, we're snuggled in and craving a heavy breakfast.  These corn cakes are filled with fresh blueberries, and although they are a little tart this time of year, the sweet corn cake and maple syrup create a delicious balance.
I made these corn cakes several times before finalizing my recipe.  The first time they weren't sweet enough, the second time I wanted more fluff, and the third time they were just right.  The fine-ground cornmeal adds a nice texture to the cake without making them gritty, and the natural sweetness of the corn gives them the flavor.  The addition of buttermilk gives these cakes a softer texture with more body, and there's no fat unlike using whole milk to get the same result.
Enjoy these blueberry corn cakes with 100% maple syrup and a few slices of bacon, the combination is perfect.  You can also experiment with other additions like chocolate chips or banana's, both would be wonderful.
2/3 cup Pamela's Baking Mix

2/3 cup fine stone-ground cornmeal 

¼ cup sugar 

½ tsp baking powder 

½ tsp baking soda 

½ tsp Guar gum

½ tsp salt 

1 cup buttermilk 

1 tsp vanilla

1 large egg

1 egg white 

1 cup blueberries 

2 Tbsp vegetable oil 

Softened butter and 100% pure maple syrup, for serving
Directions
In a medium bowl, whisk together the flour, cornmeal, sugar, baking powder, baking soda and salt. In a small bowl, whisk the buttermilk and vanilla with the 1 whole egg.  Add the buttermilk mixture to the dry ingredients and stir gently with a wooden spoon until evenly moistened.  In another separate bowl, beat the egg white until soft peaks form and fold into batter.
Heat a large non-stick skillet. Add 1 tablespoon of the oil, and when it is hot, spoon 1/4 cup of the batter into the skillet for each pancake. Drop blueberries onto each pancake and cook over moderate heat until browned on the bottom and bubbles appear on the surface, about 3 minutes. Flip and cook until browned on the second side, about 2 minutes longer. Keep the pancakes warm in a low oven while you continue with the remaining oil and batter. Serve the pancakes with butter and 100 %  pure maple syrup.