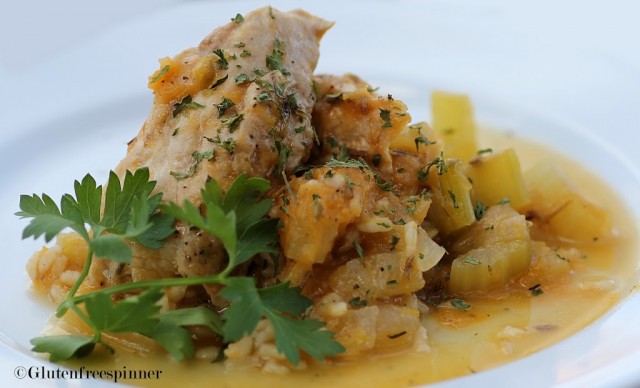 Turkey Tenderloins with Butternut Squash and Apples
Turkey tenderloins are often forgotten as an alternative to weeknight chicken, but these healthy, tender, impressive beauties are consistently delicious every time. Whether by themselves on the grill, wrapped with bacon like a beef tenderloin, skewered with pineapple and peppers, or combined with seasonal vegetables to create a fabulous stew as in this dish, you need to re-visit the turkey tenderloin.
This time, the flavors of squash, apples, and fennel highlight the turkey while creating a savory sauce with a hint of sweetness. I served this with brown rice, and it would be equally as good with white rice or mashed potatoes. Fennel seeds give a distinct flavor and if you find fresh fennel in your market, add that instead of the celery for an amazing burst of fresh flavor.
I used organic frozen butternut squash because it's what I had, but use the plentiful Autumn butternut squash now available as it will add fabulous texture and flavor that only fresh can

provide (cut the squash into 1/2″ cubes to ensure they cook through). Enjoy with a side salad and open a bottle of Sauvignion Blanc or Chardonnay for a truly impressive night.
2 Tbsp olive oil

3 whole turkey tenderloins, center tendon removed (it's ok if they separate into several pieces)

2 tsp Fennel Seed

1 tsp Sea Salt

1 tsp Pepper

½ tsp Onion Powder

4 stalks celery, large chop with greens

1 1/2 – 2 cups butternut squash – small dice, skin and seeds removed (fresh or frozen)

1 medium onion large dice

1 honey crisp apple (or similar), peeled, seeded and small dice

2 Cloves garlic, minced

Rosemary

Thyme

3/4 cup chicken stock

3/4 cup apple cider

1 Tbsp brown sugar
Directions:




Preheat oven to 325 degrees.




Heat the olive oil in a heavy Du

tch oven over medium heat. Season both sides of the turkey tenderloins with the fennel seed, sea salt, pepper, and onion powder. Sear the turkey in the Dutch oven until golden brown on both sides. Add the celery, squash, onion, apple, garlic, rosemary, thyme, chicken stock, apple cider, and sprinkle the brown sugar over top of all. Gently stir to evenly distribute the ingredients in pan. Cook for 3-5 minutes to incorporate f

lavors. Remove from heat, cover and place in the preheated oven for 45 minutes. Let sit for 10 minutes before serving.