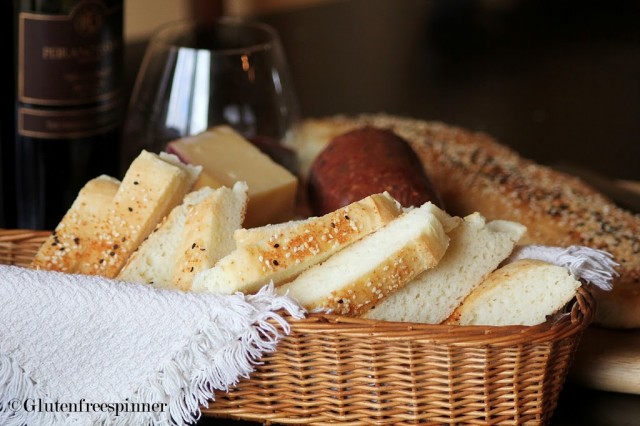 I love baguette's. I love to dip toasted pieces in Parmesan infused olive oil, I love slicing them in wedges and serving them with cheese and wine, I love them grilled with garlic butter, I love them with Italian meals of any kind, and I love using Baguette's for
sandwich's as the inside is tender and fluffy yet the outer crust is slightly crisp. So very good.
I hadn't bitten into a lovely Baguette for almost a year…until now. If you've read my blog, you know my ongoing mission is to perfect gluten free bread. I'm still not there, but I took help this time from Gluten Free Pantry's French Bread and Pizza Mix. For some reason it just feels like 'cheating' using a box, but the more I thought about it, I would never have attempted Baguette's from scratch in my gluten-eating days. So why not? Isn't it the same (or better) than purchasing a beautiful Baguette at a local market? Certainly.
This mix was very easy. I made a make-shift Baguette pan by rolling damp kitchen towels into linear logs and wrapping them with foil. It worked perfectly. The dough is sticky so forming them into logs was a bit of a mess, but a little olive oil on your fingers and spatula made it much easier.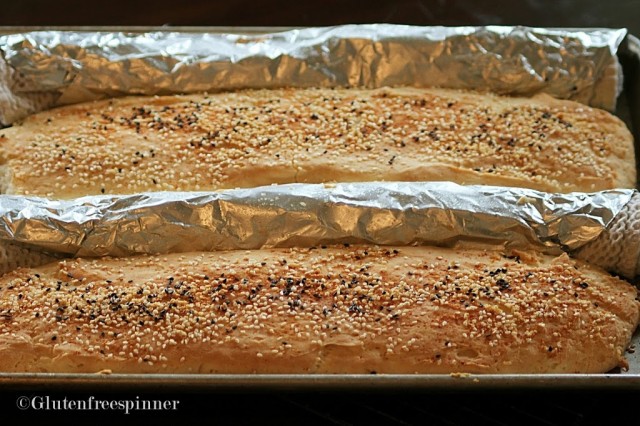 I sprinkled the tops with olive oil and dusted them with grated Parmesan cheese, white and black sesame seeds, and a little course sea salt. As you can see, they came out beautifully! Absolutely what I had hoped to achieve, and the final test…'taste' was next. They were delicious! Just as I had hoped…not a thing missing…they were wonderful.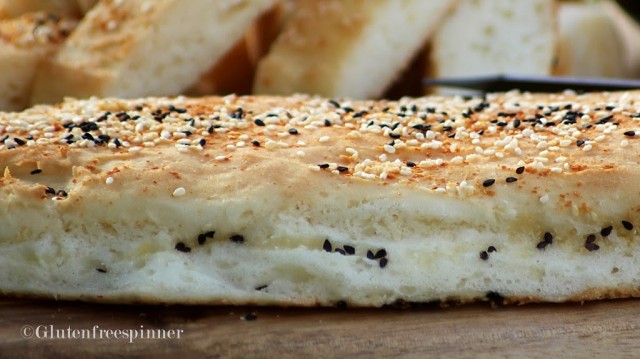 As you can see, the Baguette's rose perfectly, airy holes and tender inside with a gentle crisp to the crust. I could hardly contain my self and ate three wedges instantly. Yum! For happy hour I took 8 of the wedges and drizzled them on both sides with olive oil and baked them on 400 degrees about 5 minutes each side until light golden brown. Then I arranged them around a dipping bowl of Parmesan infused olive oil and fresh black pepper. It was heaven! Finally, even my husband said they were just like the "old days" of dipping our Baguette's. Success.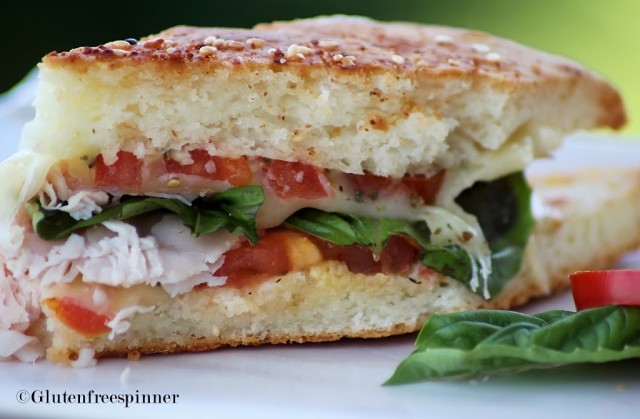 The next day I couldn't wait to make a sandwich with my Baguette. Here's the clincher for this mix. The bread was now very dry and dense, it would definitely need to be lightly toasted to use for any preparation, but that is with most gluten free breads so it wasn't a surprise. My sandwich was wonderful. As you can see the Baguette's are perfect for a sandwich. Our local market, Cub Foods, is now carrying a gluten free, MSG Free, and filler free all natural deli meat from the company Di Lusso, and they are really good. They slice them on demand and have a wide variety of meats and cheeses. I made my sandwich with turkey, mozzarella, tomatoes, and fresh basil and lightly toasted it like a grilled cheese. No need for mayo or mustard as the cheese and tomatoes made it moist and flavorful.
I recommend the Gluten Free Pantry's French Bread and Pizza mix as I was thoroughly impressed with the overall performance and taste. I would recommend making the Baguette's the same day you plan to serve them for best results, you won't be disappointed.