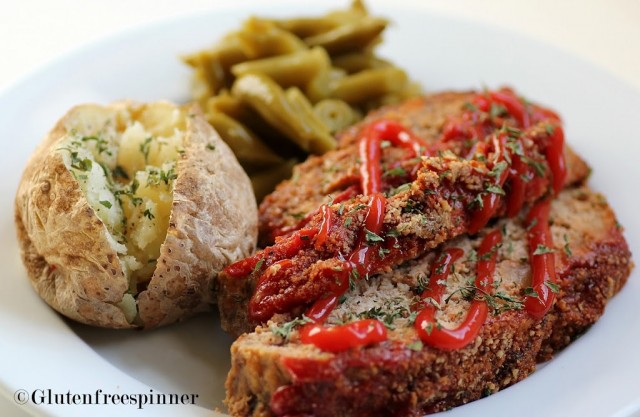 It's that time of year where meatloaf is on the menu again. This was one of the first posts I shared on Gluten Free Spinner as it's always a favorite, so I'm re-posting for those who are new to my site. I made this recipe earlier this week with baked potatoes and kitchen cut green beans, and it never disappoints…so very good. Using turkey instead of the traditional beef and pork combination reduces the fat and calories, but most important, it tastes so much better (IMHO).
I experimented with three different recipes and added a few of my favorite flavors to create this meatloaf. Turkey can be dry, but the addition of the seasoning sauce you create with Boursin cheese, Worcestershire, fennel, and chicken broth add both flavor and moisture, making this a very tender meatloaf. (Make sure your spices and broth are all gluten-free.) It looks like a lot of ingredients, but most are spices and it comes together quick and easy.
One of the unique details of this meatloaf is the method of forming your loaf on a baking sheet instead of using a loaf pan. The edges become nicely browned and there's more "topping" because the loaf is longer and wider…not contained in a pan. You won't use a loaf pan again, trust me. I took a picture just before placing it in the oven so you can see how to shape it on your pan. The topping is simply ketchup and Parmesan cheese, which may sound odd, but I'm not a big fan of ketchup so the addition of Parmesan gives incredible flavor and makes it brown beautifully. YUM!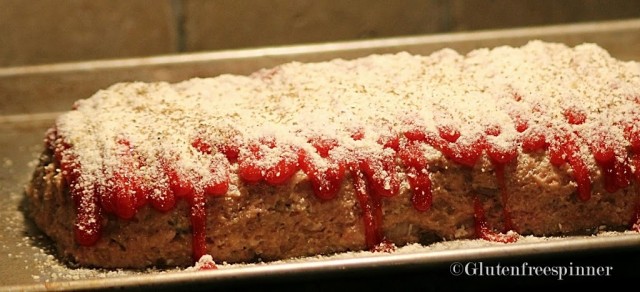 1 1/2 cups chopped yellow onions (2 medium or 1 large onion)
2 cloves garlic, minced
1 tablespoon good olive oil
1 teaspoon kosher salt
1 teaspoon freshly ground black pepper
1 tsp dried thyme, 1 tsp dried Italian seasoning, 2 tsp Montreal steak seasoning, 1/2 tsp fennel seed
3 Tbsp Worcestershire sauce
3 Tbsp Boursin Garlic and Herb Cheese
2/3 cup organic, less salt, gluten free chicken stock
1 Tbsp tomato paste
2 1/2 pounds ground turkey (I use Turkey Store Brand – 1 pkg ground breast and 1 pkg ground)
1 1/4 cups dry GF bread crumbs (If you don't have ready-made crumbs, put slices of day-old GF bread in processor to crumble. Then put in microwave on high tossing and checking in 30 sec intervals until light toasty brown.)
2 eggs, beaten
3/4 cup ketchup for topping
1/2 cup Parmesan cheese for topping
Preheat oven to 350 degrees F.
Directions:
In a medium sauté pan, over medium-low heat, cook the onions, olive oil, garlic, salt, pepper, and other spices until translucent, but not browned, approximately 7 minutes. Add the Worcestershire sauce, chicken stock, Boursin Cheese, and tomato paste and mix well – it will be like a sauce. Remove from heat and allow to cool to room temperature.
Combine the ground turkey, bread crumbs, eggs, and cooled onion mixture in a large bowl. Mix well and shape into a rectangular loaf on a sheet pan that has been lightly sprayed with cooking spray. Squeeze the ketchup evenly on top and sprinkle with Parmesan. Bake for 1 1/4 hours until the top is brown and the meatloaf is cooked through. Let sit 10 minutes and serve with baked potatoes and green beans. Mmmmmm! Good leftovers too.