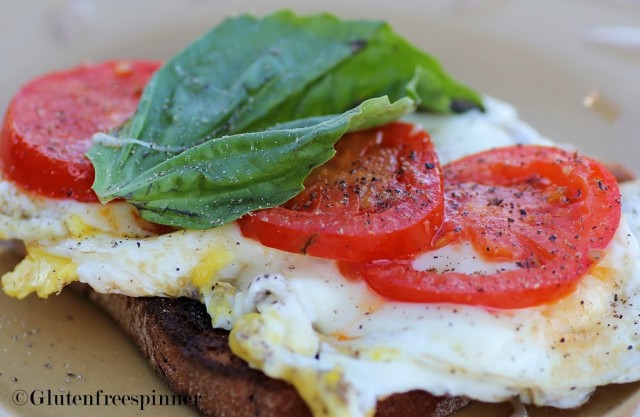 This easy morning treat is not only great for a quick dash-out-the-door breakfast, but it's impressive when you have overnight company. With fresh basil now available year round in the produce section, Caprese is no longer just a summer delight.
I made open faced sandwiches to save on the carbs, but it's equally delicious as a two-sided sandwich (or how about a double-decker for those big eaters!) Try it for brunch served open faced and cut into triangles…the platter is beautiful. Add Mimosa's and a bowl of fresh fruit for a completely elegant yet easy menu.
Favorite gluten free bread slices

Butter

Eggs

Mozzarella slices

Tomatoes, thinly sliced

Fresh basil leaves
Toast the number of bread slices and lightly butter. Set in warming oven or cover with cloth and set aside.
Heat a small amount of butter in the bottom of skillet. Fry the eggs to your liking (season) and top with a slice of mozzarella cheese after the first flip. Add the tomato slices to the pan to quickly sear on both sides (just to warm and soften). Place the egg/mozzarella on a slice of toast and top with tomatoes. Top with basil leaves and fresh black pepper.
If making a large number of sandwiches, heat oven to 200 and place on baking sheet to keep warm – without the basil. Top with basil just before serving. Enjoy.