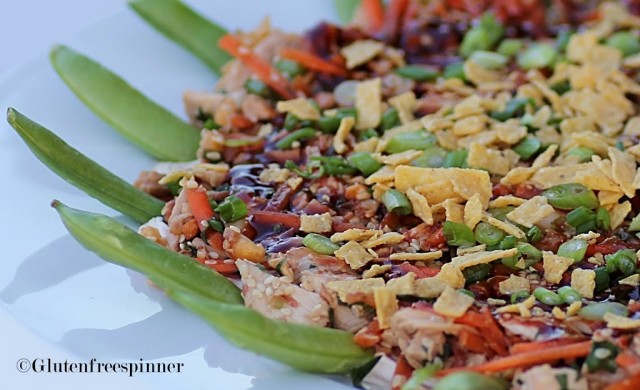 I'm always looking for appetizer ideas…something different, not too filling, healthy, full of flavor, and easy. This one hits the mark on every point. A friend of mine told me about a recipe she tried a few weeks ago at a party. Her description of the ingredients alone had me craving Asian cuisine and it wasn't long before I started looking for something comparable (she didn't have the recipe). I found a few options and tried one of them.
It was pretty good, but lacked a bit of flavor in my opinion. So, as usual, I started over and came up with my own. For starters, the original recipe's bottom layer was cream

cheese mixed with soy sauce. Not only was it difficult to 'scoop', but it was bland. My solution was to add sour cream for creaminess making it easier to scoop and spread. This also lightened up the heavy flavor of cream cheese. Next, I added spicy brown mustard, Asian pepper, and garlic powder for flavor. Mmmmm, much better.
Now…for the chicken/vegetable layer, it just needed something. I added Hoisin sauce, ginger, and a little lime juice which jazzed it up and made a wonderful difference. Heads-up – this needs to refrigerate for at least an hour so make it ahead and it will come together even faster before serving. For the final layer, there was a sauce that was just too labor intensive for an easy appetizer. My solution was combining two prepared sauce ingredients and adding a dash of hot sauce…waalaa, a great topping. I'm not saying the sauce listed in those other recipes wasn't wonderful, I never tried them…but this one was easy, delicious and added another layer of flavor.
Layering the dip on a plate and using sugar snap peapods to decorate the edges makes for a colorful presentation. The peapods are great dippers along with rice crackers and tortilla chips. This appetizer is a refreshing change, and with the holidays approaching, it's a perfect time to give it a try. Don't let the list of ingredients scare you, it comes together quickly and can be made ahead.
Ingredients:
Bottom Layer:
8 oz whipped cream cheese

¼ cup Daisy light sour cream

2 Tbsp spicy brown mustard

1 ½ tsp Urban Accents Asian Pepper Market Seasoning

½ tsp garlic powder

½ tsp onion powder



Chicken/Vegetable Layer:
3 tablespoons chopped green onions

2 tablespoons Gluten free reduced-sodium Tamari soy sauce

1 Tbsp gluten free Hoisin sauce

(Dynasty is a good brand)

1 Tbsp chopped pickled ginger

1 tsp lime juice

1 tablespoon minced fresh parsley

1 garlic clove, minced

1 cup chopped cooked chicken breast

(A broasted Deli chicken works well-check ingredients)

1/2 cup shredded carrot

1/4 cup chopped unsalted peanuts

1 Tbsp sesame seeds, toasted



Topping Sauce:
3 Tbsp Hoisin Sauce – gluten free

3 Tbsp Sweet and Sour Sauce – gluten free

Sriracha sauce – to taste, about 1-2 tsp



For Dipping:Sugar Snap Peapods, Rice Crackers, Tortilla chips, Fresh chopped green onions for top

Directions:
The following two layers can be made ahead of time and refrigerated until ready to serve.
In a medium size glass bowl, combine the green onions, soy sauce, hoisin sauce, ginger, lime juice, parsley, and minced garlic and mix well. Add the chopped chicken, carrot, peanuts, and sesame seeds. Toss to combine. Refrigerate for 1-2 hours to allow flavors to develop.
Combine the bottom layer ingredients with a rubber spatula, mixing until creamy.

To assemble:
Spread the cream cheese mixture on bottom of serving platter (12-13"). Top with the chicken/vegetable mixture, spreading over cream cheese evenly. Drizzle sauce over all. Top with fresh chopped green onions. Serve with peapods, rice crackers, or tortilla chips.