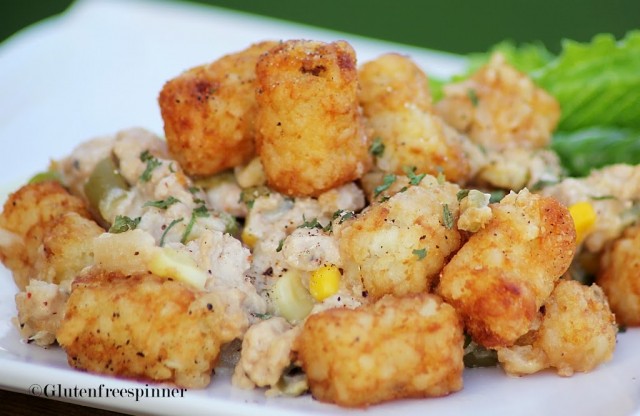 Tater Tot Hotdish
Seriously?   Yes, Tater Tot Hotdish…
When my husband called yesterday afternoon and asked what I was making for dinner, I had no idea.  It had been a busy Monday and I was consumed with work and hadn't even thought about dinner.  He suggested Tater Tot Hotdish, to which I replied, "there's gluten in the cream of chicken soup…I can't make that anymore."
Having said that many times before, I realized most hotdish's or casserole's call for a
condensed soup.  Last weekend I hosted a bridal party for my daughter and decided to make one of her favorite recipes I use to bring her in college, Enchilada Bake.  It called for cream of chicken soup and all her roommates loved it.  I thought surely I could make it without the soup by substituting cheese and eggs for a binder. It wasn't the same, it wasn't very good, and I was disappointed.  When I told my sister of the disastrous dinner I made, she said, "why didn't you just make a white sauce?"  Hmmm, why didn't I?  It's basically a cream sauce…I should have thought of that.
It's as if I thought those little cans of rubbery condensed cream soups were made with secret ingredients that couldn't be replicated.  To me, a cream sauce is like a bechamel, which I love, and I wouldn't have put them in the same category.  But it made sense…and it would be easy.  Butter, flour, and milk.  It was worth a try and my tater tot hotdish would be the test. I'm happy to report I can now add this dish (along with many others) back into my book of recipes.
It tasted exactly the same (maybe even better) and the consistency was good as well.  My very next thought was Cheesy Potatoes, my favorite Thanksgiving dinner recipe.  I've been wondering how I will make those without…and now they'll be even better.  Yippee!!  This is just one more example of challenging the phrase, "I can't have that anymore", and learning a new spin on removing gluten while adding terrific flavor.
Ingredients:
2 Tbsp butter
¼ cup Pamela's baking mix
12 oz can Nestle Carnation lowfat 2% evaporated milk
2 slices Kraft American cheese
½ tsp salt
½ tsp pepper
2 Tbsp olive oil
1.25 lbs ground turkey breast
1 Tbsp grill seasoning
1 medium onion, chopped
3 Tbsp Worcestershire sauce
½ cup Daisy light sour cream
¼ cup skim milk
½ cup frozen corn
½ cup frozen baby sweet peas
1 can kitchen sliced green beans (or frozen if you prefer)
1 pkg gluten free tater tots or similar (thawed) – check ingredients
Salt and pepper to taste
Directions
Preheat oven 350 degrees
Melt the butter in a small sauce pan.  Add the baking mix and whisk together to combine the flour/butter.  While on medium heat, continue stirring to blend the baking mix into the butter while being careful not to burn.  Add 1/3 of the can of evaporated milk and combine with the whisk.  When smooth, add 1/3 more and continue until the can is empty.  Continue whisking over medium low heat as it thickens.  Add the salt and pepper and the 2 slices of cheese.   Whisk and heat for another 2-3 minutes, watching closely so as not to burn,  until it's very thick like a cheese sauce and remove from heat and set aside.
In a large skillet heat the olive oil and brown the turkey.  Add the grill seasoning and chopped onion continuing to brown until the turkey is no longer pink.  Add the Worcestershire sauce, sour cream, milk and the cheese sauce.   Add the vegetables and combine all ingredients well.
Pour into a casserole dish sprayed with non-stick spray.  Smooth top and add the thawed tater tots spreading evenly over the turkey mixture.  Salt and pepper the tater tots and bake 350 degrees for 45-55 minutes or until golden brown and bubbly.  Remove from oven and allow to sit for 10-15 minutes before serving.