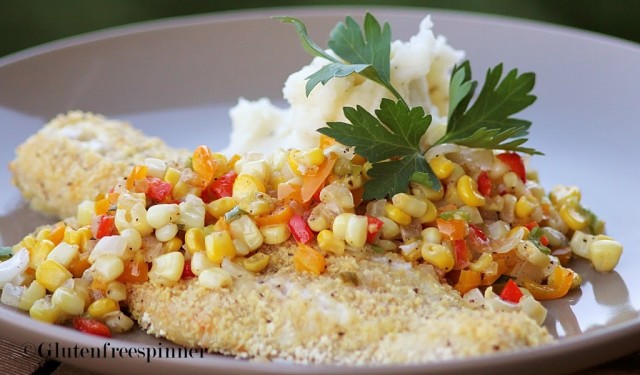 Parmesan Crusted Walleye Fillets
White flaky walleye fillets coated with the rich salty goodness of a Parmesan crusted coating. The golden outer crunch lends way to the moist white fish and it's all enhanced by the addition of Corn Maque Choux which adds a sweet balance to the entire dish.
Absolutely delicious.
2 large Walleye Fillets, rinsed and patted dry with paper towels.
Parmesan Coating:
Glutino bread crumbs – 1 cup

¼ cup grated Parmesan cheese

½ tsp onion powder

½ tsp garlic powder

½ tsp lemon Pepper

¼ tsp sea salt

¼ tsp black pepper
Directions
Lightly salt and pepper each fillet and brush with 1Tbsp cream.

Combine the coating ingredients until thoroughly blended and coat both sides of the fish. Place fillets on a rack that has been sprayed with non-stick spray and placed over a baking sheet lined with foil for easy clean up. Drizzle olive oil over top of fillets and bake in a pre-heated 400 degree oven for about 28 minutes….this is for large Walleye fillet's – 21 inches. Adjust for smaller fillets if needed.

Serve with Mashed Potatoes and Corn Maque Choux (recipe follows)

Corn Maque Choux
1 Tbsp butter

1 Tbsp olive oil

1 cup finely chopped onion

¼ cup chopped green onions

½ cup chopped red bell pepper

½ cup chopped yellow or green bell pepper

2 cups frozen corn (or fresh from cob if you have it)

Salt and pepper
Directions
Heat the olive oil and butter in a medium skillet over medium high heat. Add the onion, bell peppers, and green onions and sauté for about 3-4 minutes. Reduce heat to medium and add the corn, salt and pepper. Heat until the corn is hot and veggies are tender.