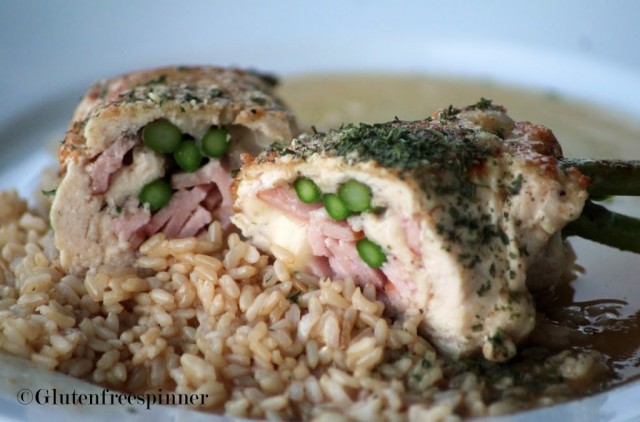 Chicken Roll-ups with Asparagus
Weeknight dinner? You bet…it's so easy to prepare and is loaded with flavor. Pounded chicken breasts wrapped with Canadian Bacon, Swiss Cheese and Asparagus are drizzled with a light and flavorful pan sauce. Serve with a side of brown rice or potatoes and

you've got an elegant meal in no-time. For an even faster preparation, you can prepare the chicken rolls ahead of time and refrigerate until ready to cook – the flavors will still be delicious.
4 boneless skinless chicken breasts

Salt and pepper

12 thin stalks of Asparagus, tough ends removed

1/2 cup Swiss cheese

8 slices Canadian Bacon, cut into strips

2 Tbsp olive oil

1 Tbsp butter

Salt

Pepper

Onion powder

Garlic powder

GratedParmesan cheese

½ cup organic low salt chicken broth

2 Tbsp butter

1 Tbsp gluten free all purpose flour
Directions
Pound the chicken breasts until 1/4 " thin between two pieces of plastic wrap or inside a resealable plastic bag. Lay each chicken breast on a baking sheet and season the facing side with salt and pepper.

Take two full paper towels and fold to make the size of one (basically a double thick paper towel) lightly sprinkle with water until just barely damp. Lay the asparagus spears at an angle on the paper towel and roll up so the entire asparagus spear is inside the paper towel. Microwave on high for 1 1/2 minutes. (You are basically blanching the asparagus the easy way.) Remove from microwave and set aside.
Evenly sprinkle the Swiss cheese over each breast. Top with the Canadian Bacon slices, evenly dividing between the four breasts. Lay 3 Asparagus spears over the top of bacon and starting at one end, roll up the breast and secure with a toothpick.

In a large skillet over medium-high heat add the 2 Tbsp olive oil and 1 tbsp butter and heat until the butter is bubbling. With a pair of tongs, lay the chicken rolls seam-side down and sear the one side. While they are searing, lightly season the top facing side of each with salt, pepper, garlic powder, onion powder, and grated Parmesan cheese. (If it's easier, you can combine those five ingredients first and sprinkle over the top of each. I didn't list measurements as you just sprinkle equal amounts lightly over each to taste.) Sear for 4 minutes, then turn each breast and repeat the seasoning on the other side…remembering to season lightly so as not to over-season.

Cover the pan and cook for 4-5 minutes. Remove the chicken to serving platter and cover with foil.
In the same pan, remove any large dripping pieces and add the 2 Tbsp butter and 1 Tbsp flour whisking until the butter is melted and flour combined. Add the chicken broth and continue whisking over medium high heat as the sauce thickens. Remove from heat when it's slightly thick – still a pan sauce not a gravy – and pour over the chicken rolls. Serve with brown rice or potatoes. Delicious!