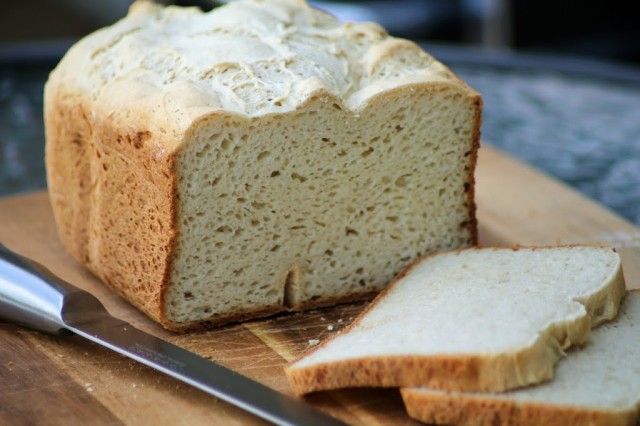 This will most likely be my longest post ever, but I want to talk bread…..again. My last attempt at bread was August 7th 2010 (the picture above) upon which I thought I finally had a recipe worthy of posting to share with everyone. It was beautiful with airy holes and browned crust…and IT DIDN'T FALL! For those of you who have tried countless times

to bake an edible loaf of gluten free bread, believing "this time" you really did it….only to witness the perfectly risen golden brown loaf you just removed from the oven (bread machine) fall, you understand my exclamation. First the top caves in and next the sides…creating an "X" instead of the beautiful mounded rectangular loaf you thought you had. That's exactly what happens, right? And for me, I was so determined that I instantly started all over again! Ugh! The record for me in one day was four loaves, all of which fell. What on earth was I doing wrong? To learn the art of baking bread before creating my own recipe, I had gathered other bloggers "amazing bread" recipes and followed them exactly as written, and mine either fell or tasted horrible. How could that be?
Not only is it the sheer frustration of failing at each attempt, it's also the expense! The numerous flours needed to create a loaf of gluten free bread are very expensive, especially if you have a wonderful idea to add a "special" flour to make your bread really good! (Like almond flour, coconut flour, or arrowroot starch) some were $8.50 for a 16 oz bag. Or how about the Xanthan gum? You cannot even consider making a loaf of bread without it, and it's $8.75 for a 6 oz. container. But it's the mission itself that keeps me going. There must be a way to make really good gluten free bread at home!
So, back to my last attempt on August 7th, it's beautiful isn't it? It really looked like a bakery loaf of bread, and I thought it tasted very good. It was soft, had a nice crumble to the crust, and it was pliable…not dry or heavy. My sister agreed as she was there to taste test with me. The next day as I was bragging to my son that I finally "did it!", he came over to taste test. He is truly my biggest critic. He tells me the truth and often suggests exactly what a given recipe needs or how to enhance it. And since I have vowed only to post recipes that are worthy of my family calling it a "Killer Recipe", I waited for his response.
"It needs more flavor, Mom."
Arrrggh. More flavor? But it finally rose without falling and it browned beautifully, and it has air holes throughout the loaf, and each slice is perfectly baked without any gummy areas, it's not heavy or dense…now it needs more flavor???
I couldn't possibly post the recipe now, not a chance. And honestly, I exhausted every trick and idea I could think of. I was done baking bread…at least for awhile. I was defeated.
It wasn't until a week ago when my husband asked if I'd make him a regular loaf of bread in my new, expensive, Zo machine that I no longer used and vowed to be done with. I purchased a Honey Wheat Bread Machine Mix that was as easy as dumping the ingredients in the maker and turning it on. The house smelled so good while it was baking! Oh Yum! I want some! I turned the loaf out onto the rack and buttered the top. It was lovely. But…it wasn't a pretty as my loaf that I baked on August 7th. (TeeHee)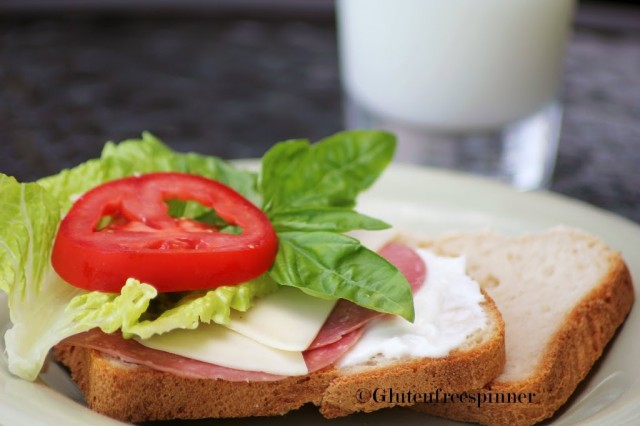 Four days and many peanut butter toast's later, my husband mentioned that his rosacia was acting up all week. What could be wrong? I reminded him of last Spring when his dermatologist recommended a gluten free diet to alleviate the symptoms of rosacia. He looked at me with disbelief. Of course…the many peanut butter toasts made with his loaf of honey wheat bread. He had been living gluten free with me for so long, he didn't realize the benefits it was giving him. Until now.
Back to Dr. Google I went, again. Bread Again.
I started with bread machine awareness and typed in "gluten free bread in a bread machine", only to read many reviews that said bread makers were not good for creating good loaves of gluten free bread. What?? That's funny, I bought one because they were quoted as being so wonderful! I even bought the Zo that was recommended even though it was the most expensive. Arrgh. Well, the only way to know would be to bake a loaf of gluten free bread the hard way…without a machine. My dreaded of all dreads. Seriously. I didn't want to knead and rise and knead and rise…etc. Had never attempted prior to gluten free and didn't want to now. Whelp, off I went.
There is a bright spot to baking gluten free bread, there is "no need to knead" as there is no gluten to knead together for the rise. Hmmm. Interesting. Ok, I can do this. I found a blog called "Full Well" where she lists a recipe for Homemade High Fiber Light Pumpernickel Gluten Free Bread (no need to knead). It looks wonderful and I will definitely be trying it next time I'm craving a Rueben or Rachel Sandwich. In her blog, she mentions how easy baking gluten free bread really is because it's a batter…not a dough…so there's no need to knead or go through the punch down cycle and re-rise. True! Now, in her recipe she lists 5 T Yeast! Wow, that's a lot of yeast. But her loaf is beautifully risen and didn't fall. I'd love to hear anyone who makes it and has success before I try.
Anyway, I used her tips and tried my hand at an oven baked loaf of gluten free bread without two rises or kneading. The rise was wonderful and I could barely contain myself as I saw it through the oven window. Yay! Success! (Or so I thought) Take a look at my beautiful loaf of bread baking in the oven. Looks like I did it, right?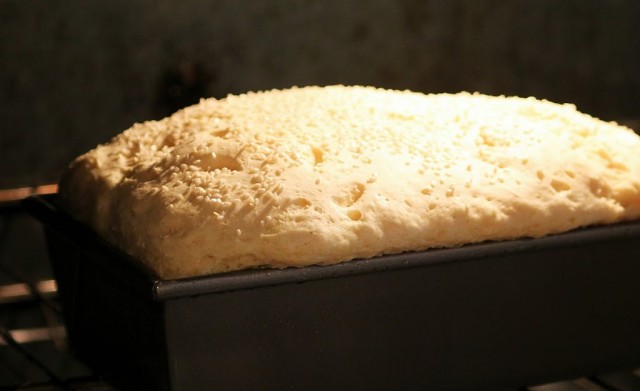 Wrong. When it completed baking I took it out and anticipated taking pictures and blogging about how I finally did it! But within 30 seconds, it fell. I mean it really fell. It was the shape of an X again. I made two more loaves, varying the rise and break down methods, varying the ingredients, and I used a tutorial from King Arthur Flour which is excellent. Since I didn't use their flour mixture, I cannot give a fair assessment of the method, but the final product they show is what we're all looking for. As for my loaf, it fell, again, and was gummy. But the good thing was, I learned it's not falling because of the bread machine, and that's what I wanted to know. Another learning process, and back to my Zo I went.
The following day, I went back to my August 7th recipe. It didn't fall, rose beautifully, and wasn't gummy which is what all the other loaves did the day before. But how could I add more flavor? It must be the flour combination. I had used coconut flour in that recipe as I read the wonderful flavor it gave to baked goods. Hmmm, obviously not enough. Now what?
Just to confirm my findings, I made the exact same recipe, again, and it was a success. That….is a good thing. Consistent. Now for flavor. Sweet rice flour is something I haven't used before but have read the flavor properties are good. I also read that potato starch has a much sweeter flavor than corn starch, I could change out the corn for potato. But would those two alterations really change the flavor? It was worth a try.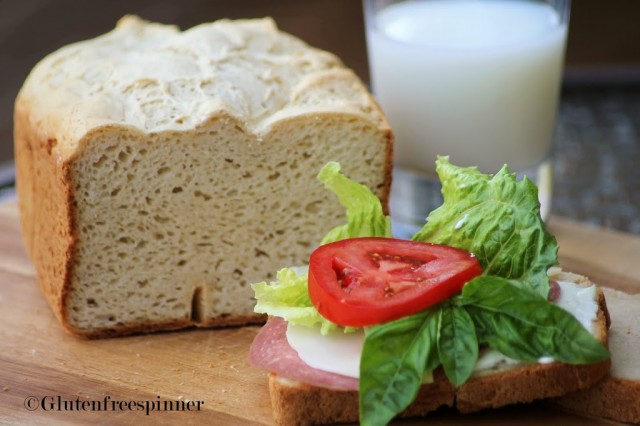 Just to revisit, this is my August 7th bread…Yum, right? When my sister and I tasted it, we were dying for a piece of bread with mayo, salami, provolone, basil, lettuce, and a large slice of tomato. Here it is. I loved taking pictures of it too, I have over 150 of them. It was so very good…really, we moaned while eating it. Remember, the only bread I had prior to this day was Udi's, which is good, but it comes frozen and isn't warm, moist, tender, nor do you have thick beautiful slices. It was delicious and we ate half the loaf talking about how exciting it would be to post.
Well, my new revised recipe with potato starch instead of corn starch and sweet rice flour instead of sorghum flour…fell…and it was gummy. The gummiest of all that I had made so far. Yuck. I didn't eve take pictures…it was that bad. Into the trash it went.
So to you I give my August 7th recipe, made again this 16th day of September, and it is still beautiful and delicious. Yes, my son would prefer more flavor, I'll give him that…there's always room for improvement. Being that he is not gluten intolerant, however, I'll challenge him to compare my bread side-to-side with those available to us in the market. I think he might find himself right beside me enjoying a sandwich made with mine. : >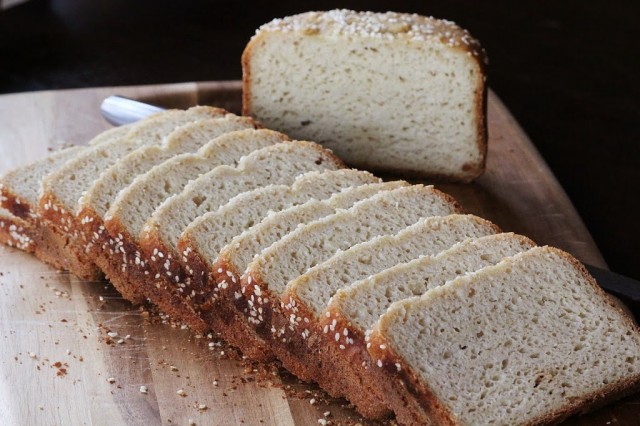 I sliced the entire loaf tonight to show the consistency of each slice. I just had another piece simply spread with butter…yum. And seriously, knowing my mission and determination, I will eventually try again…to improve upon what might be even better. But having made the recipe again today and loving it as I did the first time I made it, I am happy to share it with you. I hope you enjoy a soft and tender sandwich of choice, and I challenge you to add "more flavor"….and let me know when you succeed.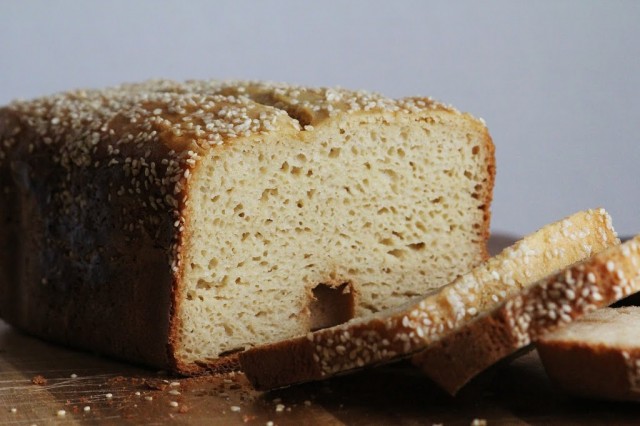 Happy bread baking. Cheers.
Mary's Best Gluten Free Bread

Ingredients:

Dry
½ cup Sorghum

½ cup millet

1 cup tapioca starch

1 cup cornstarch

¼ cup coconut flour

3 Tbsp brown sugar

2 ½ tsp Xanthan Gum

½ tsp cream of tartar

1 ½ tsp salt
Wet
3 Tbsp butter – melted

1 tsp cider vinegar

1 ½ cups water

3 egg whites
** 2 ¼ tsp active dry yeast (to be added last)

DIRECTIONS FOR BREAD MACHINE:
The bread machine I use is the Zojirushi BBCC-X20
These are the settings I use:
Set the machine to the homemade setting.
Set the preheat option for 10 minutes.
Set the machine to knead for 18 minutes.
Turn rise 1 and 2 off.
Set rise 3 for 1 hour.
Set the bake time for 1 hour and 10 minutes.
Turn the keep warm cycle off.
Set the machine to your desired crust setting, I have mine on medium.
Save the setting to Homemade 1 for future use

Directions:
Combine the dry ingredients and set aside.

Beat the egg whites with an electric mixer for 1 minute then add the remaining wet ingredients.

Pour the beaten wet ingredients in the bottom of the bread machine pan. Spoon the dry ingredients on top of the wet being careful not to let the wet show through. Make a well in the center of the dry ingredients and put the yeast in the well. Close lid and press start (ensuring it's on the homemade cycle listed above).

While the bread is mixing, give it some help with a rubber spatula and scrape down the sides of pan into the dough. When the mixing cycle stops and it starts the rise cycle, smooth the top as this is how your finished loaf will look. Sprinkle with sesame seeds.

When the baking cycle is finished and the machine beeps, unplug and remove the baking pan from the maker. Brush the top of loaf with butter and set the pan on a cooling rack for 5 minutes. Remove the loaf from the pan and place on cooking rack and allow to cool completely before slicing (at least an hour). Slice with a serrated knife and store wrapped in parchment paper in a zip lock bag.