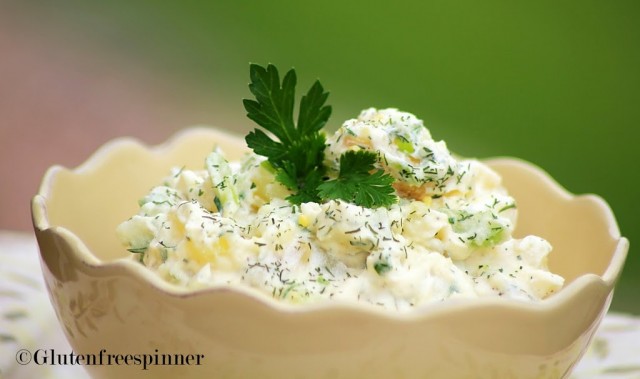 Yukon Gold Potato Salad
I love Yukon Gold potatoes and wondered how they would be in potato salad instead of red potatoes. No more wonder, they are delicious! The original recipe for this potato salad came from a friend of our family, Karin, who is 72 and has been making hers for years. A few spins of my spice wheel and what was already a good recipe is now even better. The soft buttery texture of Yukon Gold potatoes combined with the creamy dressing, crunchy celery, and fresh green onions is a winner.
Notice the method below for cooking the potatoes. I saw this on a cooking show and it works beautifully. Instead of the traditional method of cooking the potatoes whole, allowing to cool, then trying to dice without mushing them, this was much easier and produced a nice cubed potato. Be sure to test the potatoes often so as not to overcook.
8 yukon gold potatoes, washed and eyes removed leaving good skin on, Diced.

2-3 eggs, hard boiled, peeled, and diced

1 ½ cups diced celery

4 green onions, diced

3 Tbsp fresh chopped parsley

¾ cup real Mayonnaise

½ cup sour cream

1 tsp yellow mustard

1 tsp sugar

1 tsp cider vinegar

1 Tbsp dill weed

1 tsp onion salt

1 tsp lemon pepper

Salt and Pepper to taste
Directions
Fill a large kettle with cold water and add the prepared potato cubes. Loosely cover and heat to a boil. Boil for 10-15 minutes until knife tender….they still need to be firm but not hard. Drain and gently rinse the potatoes with cold water to cool – being careful not to break the cubes with a blast of the water. Drain completely. Generously salt the potatoes, toss to incorporate into the potatoes and set aside to cool.

In a large bowl, add the celery, onions, parsley, and cooled potatoes. In a separate small bowl add the mayonnaise, sour cream, mustard, sugar, vinegar, dill, onion salt, lemon pepper, and salt and pepper to taste. Add to the potato and celery mixture and gently toss to combine. Add the diced eggs and combine. Refrigerate for at least 2 hours, toss, taste for salt and pepper, and garnish with dill and parsley.