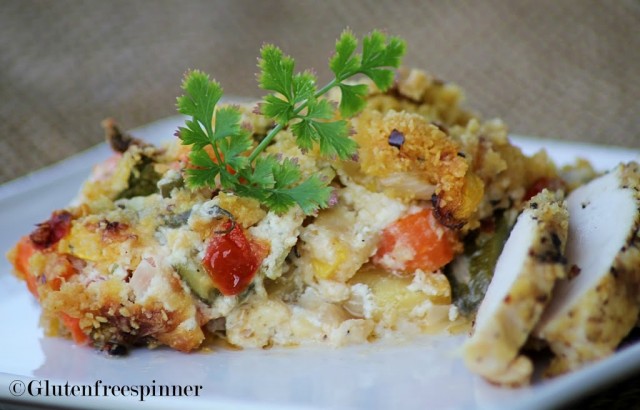 Summer Vegetable AuGratin
Not being a vegetable gardener (or a gardener of any sort) yet loving everything that a garden delivers, I have the utmost respect and admiration for those who do. We received a beautiful display of tomatoes, peppers, and chili's from a friend's garden and the colors were a reminder how beautiful nature's bounty can be. Take a look…I was mesmerized by the vivid orange, red and green and couldn't resist capturing the view with my lens.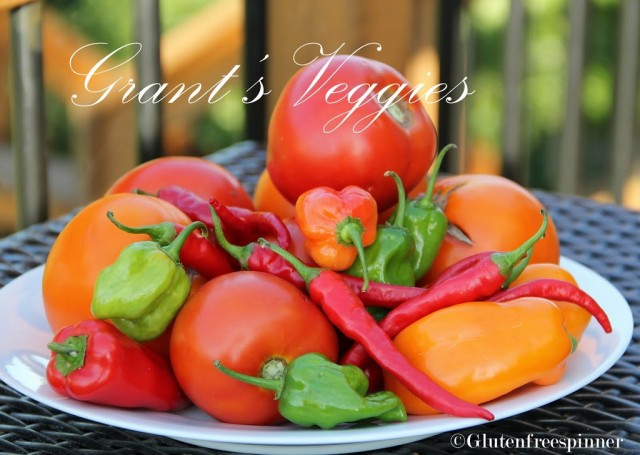 So with the yellow and green zucchini and a few other veggies I had on hand combined with the sweet ripe tomatoes we received, I set out to make a vegetable casserole. There are many recipes out there for zucchini tomato casseroles that are both healthy and delicious. But today, I wanted something creamy and cheesy with a crunchy brown topping, and I didn't even consider the calorie count while making this one, I wanted the flavor and boy did it deliver! And…it was so very easy.
I enjoyed this dish for dinner that evening with a baked chicken breast on the side (yes, my Vegetable AuGratin was the main event for me). I also enjoyed it for lunch the next day and dinner again the following evening…(giggle giggle)…and it was wonderful every time! You can vary the combination of summer vegetables you have on hand as the recipe should compliment all. Try adding fresh peppers and chili's for a spicy layer of flavor, just keep in mind the water content of the vegetables added. Enjoy.
1 Tbsp olive oil

1 Tbsp butter

1 small onion, chopped

Sea Salt and Fresh ground black pepper

½ tsp thyme

2 cloves garlic minced

2 small green zucchini squash, cut in half, seeded, and sliced into half moons

2 small yellow zucchini squash, cut in half, seeded, and sliced into half moons

2 carrots, peeled, cut in half, and sliced into thin half moons

1 garden tomato, chopped

1 1/2 cups of haricot vert green beans, cut in half

3 Tbsp half and half

¼ cup shredded Parmesan cheese

¼ cup grated Parmesan cheese

¼ cup shredded Swiss cheese

½ of a 5.2 oz pkg. Boursin garlic and fine herb gourmet cheese

½ tsp sea salt

½ tsp fresh black pepper

2 Tbsp olive oil
½ cup Glutino Bread crumbs

¼ cup Parmesan cheese

2-3 Tbsp Butter

Dash of red pepper flakes
Directions


Saute the onions in olive oil and butter for 4-5 minutes seasoning with fresh black pepper, sea salt, and ½ tsp Thyme. Add the garlic and sauté for 1 more minute until onions are slightly browned and tender.

In a large bowl, toss all the vegetables, onion/garlic mixture, half and half, cheeses, and salt and pepper. Pour into casserole dish sprayed with non-stick spray. Sprinkle the 2 Tbsp olive oil over the top.

For the topping, combine the bread crumbs and Parmesan cheese and sprinkle over top of casserole. Dot with the butter and finish with a dash of red pepper flakes.

Bake uncovered in 375 degree preheated oven for 1 hour until brown and bubbly. Let sit for 10 minutes before serving.