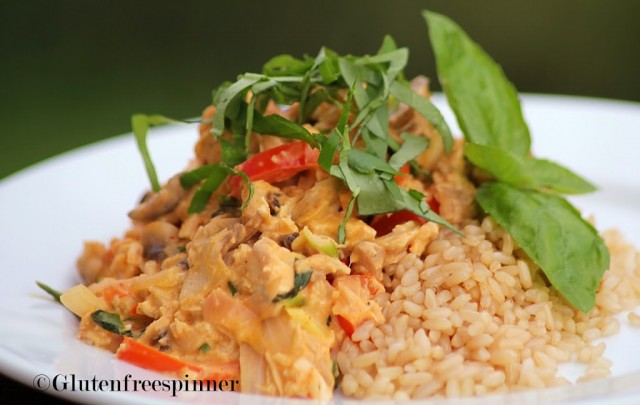 I recently read that Curry is the new superfood (spice) and should be eaten twice a week. What a great discovery! I'm not a huge fan of yellow curry, but I love red and whichever curry you love, all varieties are included. This new superfood is said to help stave off everything from cancer to Alzheimer's disease.
So today it's Red Curry Chicken on the menu, and it couldn't be easier with the help of a rotisserie chicken. This particular dish has a creamy curry sauce rather than the traditional broth sauce. (If you prefer a broth curry sauce, try my Thai Basil Chicken as it's equally delicious.) In this dish, the spicy red curry combined with the whipped cream cheese and chicken broth creates a flavorful sauce that coats the chicken and vegetables. A final zing of fresh lime juice keeps the sauce bright and balances the creaminess of this dish. Serve over brown or jasmine rice and enjoy the benefits of this new superfood.
Ingredients:
2 Tbsp olive oil plus 1 Tbsp sesame oil

1 small onion, sliced into 1" pieces

1 cup thinly sliced white button mushrooms

½ cup sliced red bell pepper

1 cup cooked diced chicken breast (rotisserie works well)

1-2 cloves garlic, minced

1 Tbsp red curry paste

½ tsp urban accents Asian Pepper Market Seasoning

1 Tbsp chopped pickled ginger

2/3 cup whipped cream cheese (be sure to use whipped)

1/3 cup organic chicken broth

2 Tbsp chopped fresh basil (plus more for garnish)

2 green onions, sliced on the angle (about ¼ cup)

Brown rice or Jasmine rice

Fresh limes
Directions:


Heat the olive oil and sesame oil over med-high heat and sauté the mushrooms, onions, and red bell pepper for about 2-3 minutes. Season with salt and pepper and add the minced garlic and cooked chicken. Sauté for 1 minute and add the red curry paste, Asian pepper seasoning, and ginger, stirring to combine all. Add the cream cheese and chicken broth, stirring with a plastic spatula creating the sauce. When thoroughly combined, stir in the chopped green onions and fresh basil and remove from heat.

Plate with brown rice or Jasmine rice and squeeze fresh lime over all. Garnish with basil.
You can add red pepper flakes at the end if you like it spicier.