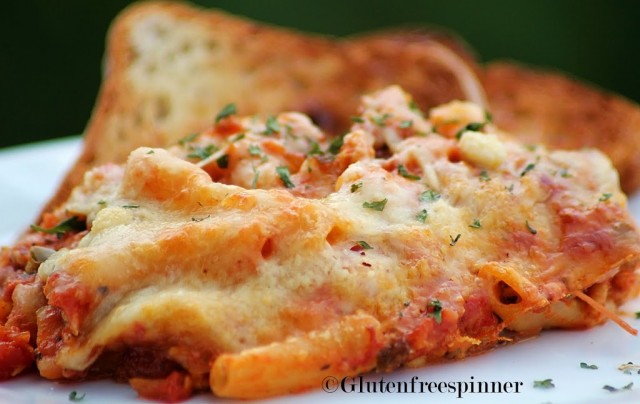 Penne Pasta
We've been grilling most every night this summer and love the smokey goodness it adds to our meals. But I've been craving an Italian pasta meal baked in the oven with bubbling cheese, and this meal delivered! The penne pasta has little ridges that capture the sauce and trap the veggies and turkey. The five cheese blend and Parmesan cheese adds the melted gooey yumminess I was craving. Top it off with a few slices of garlic toast and an Italian feast it was.
6 oz thick cut bacon (about 6-8 slices) cut into small pieces and fried to crisp

1 lb ground turkey breast

1 medium onion, chopped

½ cup chopped green bell pepper

½ cup chopped red bell pepper

1 large carrot, peeled and finely chopped

3-4 cloves of garlic, finely chopped

1 ½ tsp sea salt

1 tsp fresh ground black pepper

1 tsp dried oregano

1 tsp dried basil

1- 25.5 oz jar of your favorite gluten free spaghetti sauce (I like Dave's Gourmet Red Heirloom Organic)

1- 14.5 oz can fire roasted tomatoes (I like Muir Glen Organic)

1- 8 oz can organic tomato sauce with basil and garlic

1 tsp sugar

½ tsp red pepper flakes

2 Tbsp grated Parmesan cheese

3 cups uncooked brown rice penne pasta (I used Trader Joe's brand)

1 -8 oz pkg Italian five cheese Blend shredded cheese

½ cup grated parmesan cheese
Directions:
Fry the bacon until crisp and drain on paper towels. Remove the grease from pan leaving about 1-2 tbsp. Saute the ground turkey, breaking it up with spatula. When the turkey is slightly pink, add the onion, peppers, and carrots. Saute and add the garlic, salt, pepper, oregano, and basil, continuing to sauté until vegetables are tender.

Add the spaghetti sauce, roasted tomatoes, tomato sauce, sugar, and red pepper flakes. Stir to combine and heat covered, on medium low for about 20 minutes. Add the Parmesan cheese to sauce, stir, and turn heat off.

While the sauce is cooking, heat a large pot of salted water to a full boil and cook the noodles 7 minutes (barely al dente'), drain and rinse. Add the drained noodles to the sauce and combine.

Spray a lasagna pan with non-stick spray and heat oven to 375 degrees.

In the prepared pan, pour half the sauce noodle mixture into the bottom spreading out evenly. Top with ½ of the five cheese blend and sprinkle ¼ cup of the Parmesan cheese. Pour remaining half of the sauce noodle mixture on top and spread evenly once again. Top with remaining cheese blend and remaining Parmesan as the top. Sprinkle red pepper flakes over all, cover with foil, and bake in preheated oven for 35 minutes. Remove foil and bake additional 15 minutes or until cheese is brown and bubbly.

Let sit for 10 minutes before serving.