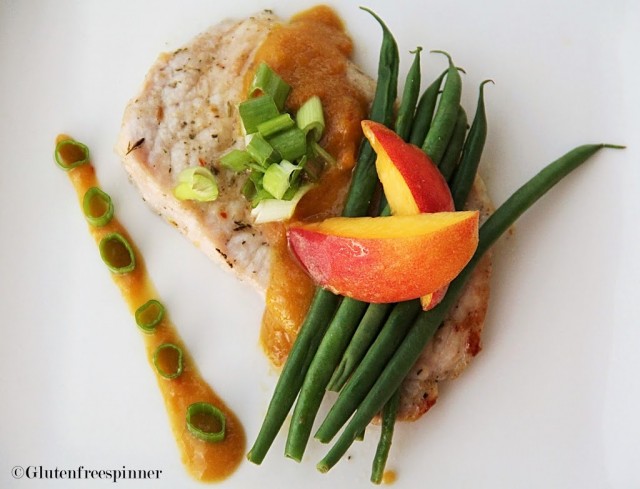 Peach Glazed Pork Cutlets
My sister brought over a beautiful basket of fresh peaches yesterday. One bite of these perfectly ripe beauties gave me goose bumps they were so good! When peaches are in season, there's nothing better.
It's no surprise I had to incorporate them into our dinner that evening. Peach glazed pork cutlets with Haricot Vert green beans. Yumm. The sweetness of the peaches and the

Asian influence of soy sauce and ginger creates a burst of flavor you'll want accompanying every bite. The addition of tender yet crisp green beans adds the finishing touch to these fresh bright flavors. Oh, and did I mention quick and easy? Very. It's Delish!
2 ripe peaches, skinned and sliced into quarters

1 ½ tsp organic gluten free tamari soy sauce

2 tsp Dijon mustard

1 ½ tsp pickled ginger (or fresh)

2 tsp brown sugar

Dash red pepper flakes
Combine ingredients in food processor or blender. Pour into a small pan and simmer over lowest heat while you prepare the pork.
Pork Cutlets
6-8 Pork Loin boneless cutlets – ¼" thick (should be able to purchase already cut)

2 Tbsp olive oil

2 Tbsp butter

Chopped Scallions
Spice Rub:
1 tsp garlic powder

1 tsp onion powder

1 tsp sea salt

½ tsp ground ginger

1 tsp Urban Accents Asian Pepper Market Blend

½ tsp thyme
Directions
Combine the spice rub ingredients and sprinkle over both sides of pork chops – not too heavy as they are thin. In a large skillet, heat the olive oil and quickly sear the pork chops on both sides (about 2 minutes each side is all that should be needed). Add the 2 Tbsp butter and swirl around in pan to melt. Turn heat off. The butter adds a nice coating to the cutlets. You can omit if you don't want the calories.

Serve with peach sauce, fresh haricot vert beans (whole French green beans), chopped scallions, and a few slices of peaches for garnish.