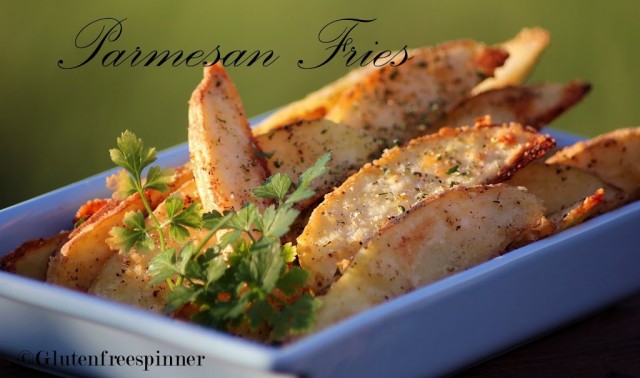 Two of my favorites together…Parmesan and Potatoes. Yum.
These steak fries are healthy too…baked not fried. Ready for one more wonderful reason to make these? The baking sheet is lined with parchment paper so there's no clean up. Yep, these are a must. Crisp, savory, tender, and delicious.
Ingredients:
Russet potatoes (figure about 1 large potato for each person)

Parchment paper

Olive oil (2 Tbsp for every 3 potatoes)

Parmesan cheese (2 Tbsp for every 3 potatoes)

Sea salt

Fresh ground black pepper

Garlic powder (1/2 tsp for every 3 potatoes)

Fresh chopped parsley
Scrub the potatoes well and remove any eyes. Cut them in half, then half again, then into thirds. The key is to have thin wedges so they become crisp.
Arrange a sheet of parchment paper on a large baking sheet. Preheat the oven to 400 degrees.
Combine the Parmesan cheese, sea salt, pepper, and garlic powder in a small bowl. In a large bowl, toss the wedges with just enough olive oil to lightly coat, too much will prevent them from crisping. Sprinkle the seasonings (except the parsley) over all. Place the potatoes individually, on the prepared baking sheet, ensuring not to overlap. Bake in a preheated 400 degree oven for 25 minutes, turning each one separately after 15. You'll know when they are done as they will be crisp and golden brown.
Remove from oven, toss with chopped fresh parsley, and let sit for 3-4 minutes to cool. Enjoy with a side of seasoned sour cream or just by themselves. Delicious.