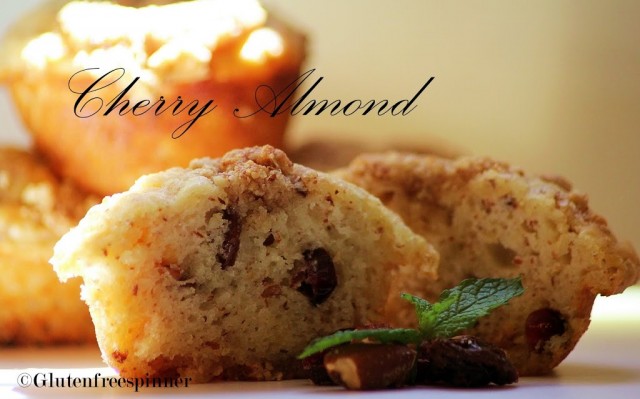 What a great combination, cherries and almonds. These moist and flavorful muffins are filled with the goodness of sweet-tart dried cherries, nutty almonds, and protein-packed Greek vanilla yogurt. And if that isn't tempting enough, I added a layer of streusel on

both the bottom and the top for a sweet crunchy buttery finish. I kept the recipe easy by using Pamela's Baking Mix instead of 5 different flours. It's a great staple to keep in your pantry for quick breads and cookies. This recipe yields 9 scrumptious muffins.
Streusel topping:
1/4 cup Pamela's baking mix

1/4 cup packed brown sugar

¼ cup coarsely chopped almonds

1/4 cup butter, cold, cut into small pieces
Muffin Batter:
1 ¼ cup Pamela's baking mix

1/3 cup sugar

1 – 6 oz container Chobani Vanilla Greek Yogurt

2 Tbsp softened butter

2 Tbsp milk (or water)

1/3 cup chopped dried cherries

2 Tbsp chopped almonds

1 Egg

½ tsp vanilla extract

½ tsp almond extract
Directions:
Preheat oven to 350 degrees. Spray 9 muffin cups with non-stick spray.
Combine all streusel ingredients with a fork or in a small food processor on pulse. Set aside.

Combine all muffin batter ingredients with a spatula or wooden spoon until well blended. Don't over-blend, about 20 strokes should do it. Sprinkle half the streusel mixture in the bottom of the prepared muffin cups. Spoon the muffin batter on top of the streusel, dividing equally. Sprinkle the remaining ½ of streusel mixture over the top of each and bake for 18-20 minutes or until muffins spring back when touched…don't over bake.

Let sit for 5 minutes, carefully remove from the muffin tins and place on cooling rack. Yummm.