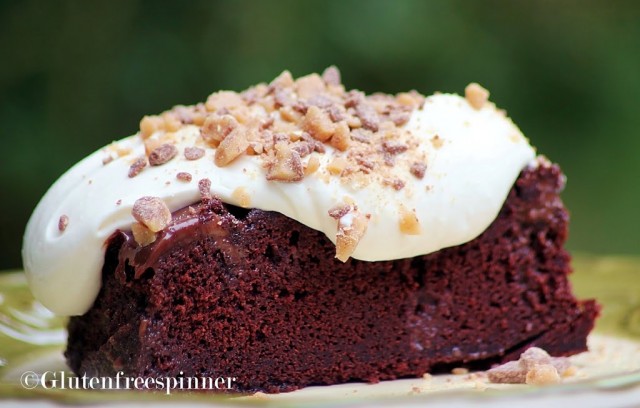 Ok, so the name is up for debate, but this long-time standing crowd pleaser is no longer forbidden on a gluten free diet. The first note of appreciation goes to General Mills, again, with their Devils Food Chocolate Cake Mix, which makes this indulgent dessert as easy to make as it is to love.
The original recipe has much more caramel and overall sauce, which was a bit too sweet for me so I adjusted for my taste. Now, here's the best part of this dessert (IMHO), my

creamy dreamy topping. Imagine real whip cream (no "imitation whipped topping" for me), Mascarpone, and whipped cream cheese. It is sinfully good and irresistible.
Ingredients:
The ingredients are listed separately by step….look for the bullets for your shopping list.
1 pkg Betty Crocker Gluten Free Devil's Food Cake Mix

1/4 cup mayonnaise
Prepare as directed on package adding ¼ cup mayonnaise in addition to other ingredients. You can omit the mayonnaise, however I felt it needed the additional moistness.

Bake as directed on package in a 9" round cake pan sprayed with non-stick spray for about 40-42 min

Remove from oven and allow to cool in the pan.

When cool, poke holes all over the top of the pan. You can do this with either the end of a skewer or for larger holes, the end of a wooden spoon. It tends to absorb faster with larger holes as the sauces are thick.

One at a time, drizzle each of the following sauces, allowing each to soak into cake before adding the other. I found it best to microwave the fudge and butterscotch sauces slightly to make thinner and easier to absorb. Do not allow it to become hot though…just pourable.
¼ cup chocolatefudge sauce

¼ cup butterscotch sauce

½ can sweetened condensed milk
Topping:
First:
Beat the following three ingredients until stiff peaks form. Set aside. Be careful not to overbeat.
1 ½ cups heavy whipping cream

1 tsp vanilla extract

¼ cup powdered sugar
Second:
Beat the following 4 ingredients together until smooth and creamy.
6 oz whipped cream cheese

4 oz Mascarpone cheese (if you can't find, just use more whipped cream cheese)

1/3 cup sugar (if you like it sweeter, you can add a little more to taste)

1 tsp vanilla extract
Finally, gently fold the whipped cream into the cream cheese mixture to combine. Frost the top of the cake with topping and sprinkle with:
Milk chocolate toffee chips.
Refrigerate until serving. Store in refrigerator.