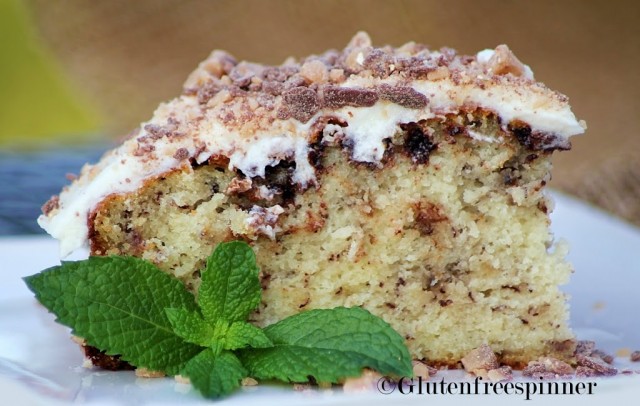 Banana Chocolate Chip Cake
Ok, I admit, I had a piece for breakfast with my coffee. Sinfully good.
This cake has been a favorite of ours for years and my daughter asks for it each birthday. She asked for cupcakes this year, and the word was they were amazing. Yes, they were glutenous and I wasn't able to taste, however there's no better verdict than that of my

family. But since her "party" and all the oohs and ahhhs, I went with my standard motto of, 'there's no reason these can't be made gluten free' and set out to make them.
With the help of Betty Crocker, Waaalaaa! Banana chocolate chip cake once again! It's delicious and so very easy! The original recipe uses Duncan Hines yellow cake mix so if you are not gluten free, just substitute (using two pans for a double layer as it's a larger mix). This cake is beautiful with or without the frosting as the chocolate chips decorate the top like a brunch cake, so you decide. I like the added creamy goodness the frosting adds. Yumm.
1 pkg Betty Crocker Gluten Fre Cake Mix – Yellow

2/3 cup water

1 stick softened butter (1/2 cup)

2 tsp gluten free vanilla extract

3 eggs

2 very ripe bananas – mashed

1 tsp baking soda

½ cup mini chocolate chips
Directions
Spray a 9" cake pan with non-stick spray. Preheat oven to 350 degrees

Prepare the cake as directed on package adding the water, butter, vanilla, and eggs. Be sure to follow as noted, beating for 2 minutes. In a separate bowl, combine the mashed bananas and baking soda and mix until blended. Fold the bananas into the cake batter mixing thoroughly.

Pour the batter into a prepared 9" round cake pan. Sprinkle ½ cup mini chocolate chip morsels over the top of batter, distributing evenly. Bake in preheated oven for 36-43 minutes until toothpick comes out clean. Check last 5 minutes as mine was done at 36 minutes. (For cupcakes, 22-26 minutes.)

Cool 5 minutes then remove from pan and continue to cool on wire rack.

Frosting
1 stick butter, softened

2 cups powdered sugar

1 tsp vanilla

4 tsp half and half

Heath Milk Chocolate Toffee Chips
Directions
Beat ingredients together until smooth and creamy. Frost cooled cake and top with the Toffee Chips.