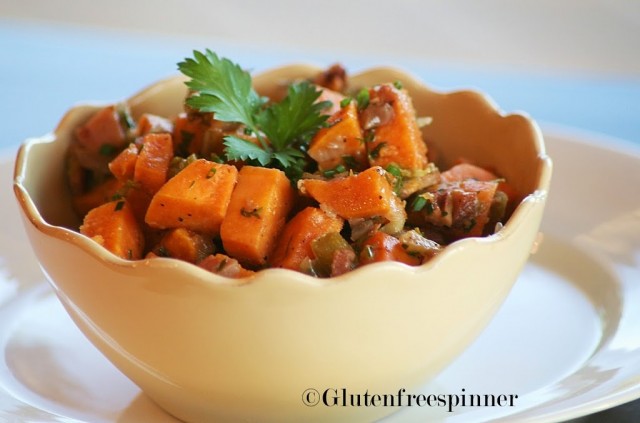 I love sweet potatoes and recently learned they are the most nutritious item in the produce section, what an added bonus! In this dish, the gentle sweetness of the potato is complimented by the savory ham and green pepper. Serve as an easy side dish or all by itself as a scrumptious lunch. It's even good cold the next day.
2 Tbsp olive oil

3 sweet potatoes, peeled and cubed

1/2 cup diced ham

1/2 green pepper, chopped

1/4 cup chopped red onion

1/4 cup chopped sweet yellow onion

2 green onions, chopped

1 stalk celery, chopped

2 Tbsp fresh chives, chopped

Salt and fresh ground black pepper

Fresh parsely

Candied Walnuts (optional)
Directions
In a large saute pan heat the olive oil over medium heat and saute the ham, red onion, yellow onion, and green pepper until the onions are tender. Add the sweet potatoes and celery tossing to coat with onions and pepper. Season with salt and pepper, turn the heat to medium low and cover. Cook the potatoes 8-12 minutes, checking and tossing often. When the potatoes are starting to soften, add the green onion and chives and continue cooking until the potatoes are tender but not mushy. If you cook too long you'll have sweet potato mash instead of hash. ; >


Season to taste with salt and pepper (I used quite a bit of pepper) and add chopped fresh parsley. I added candied walnuts pieces just before serving for an added crunch which I thought was a wonderful texture balance.