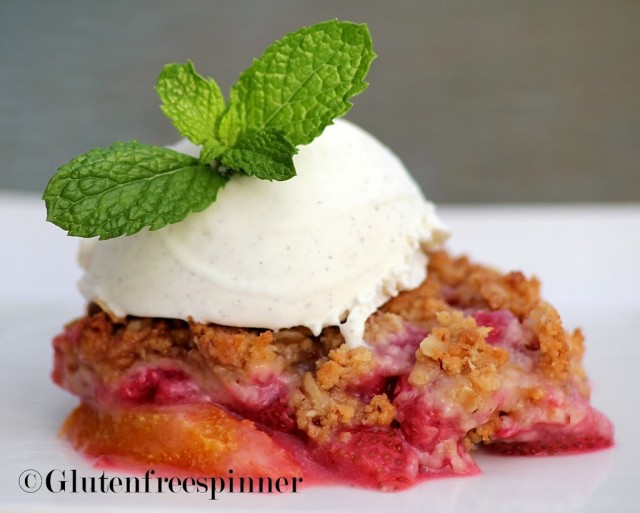 Strawberry Raspberry Crumble
The taste of Summer fruit in a double berry crumble with the surprise of fresh citrus orange segments to balance the sweetness. The crumble topping gives a wonderful cookie-like crunch and the final kiss of vanilla ice cream puts it over the edge. Seriously.
Directions
Preheat oven to 350 degrees and prepare 9×9 pan with non stick spray
I listed the ingredients and instructions step by step in this recipe as it's layered.
Fruit Filling:
2 cup fresh raspberries
2 cup fresh sliced strawberries
4 medium oranges, segmented
Combine all fruit in a large bowl and set aside.

Crumble:
1 cup Gluten Free all purpose flour (I used Pamela's baking mix)
¼ cup Gluten free rolled oats (I used Bob's Red Mill)
¾ cup brown sugar
6 Tbsp melted butter

Mix crumble ingredients together and press half of the mixture into bottom of prepared pan. Pour the prepared fruit on top and evenly distribute over crust. Next, continue with the sauce (below).

Sauce:
¼ cup white sugar
1 ½ tsp corn starch
¼ Cup water
½ tsp vanilla
In a small sauce pan, bring the 4 ingredients above to a boil and cook until thickened (will happen quickly). Pour evenly over fruit mixture.

Put the remaining ½ of the crumble over the top of fruit and bake until bubbly, about 45 minutes at 350 degrees. Let cool for 15 minutes and serve with vanilla ice cream. Best eaten the same day.