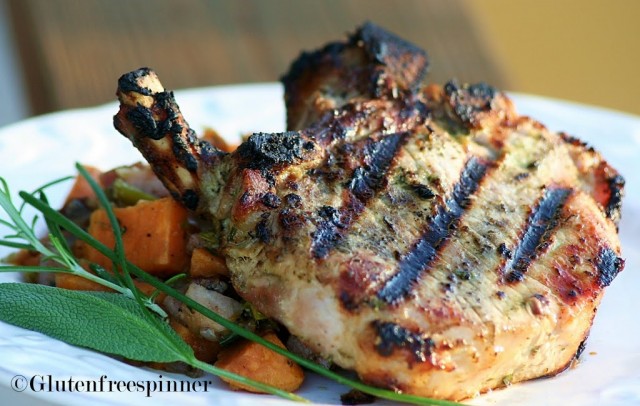 My herbs are blooming in the garden and I love finding reasons to use them. These savory pork chops are marinated in an herb wine blend with a touch of Dijon mustard for added

depth of flavor. Grill these to a golden brown with tempting char marks and you'll slice into a tender, juicy, savory chop.
Ingredients
4 bone-in center cut – thick cut pork chops (about 1 1/4 inches thick)
Marinade Ingredients
1 Tbsp Fresh Rosemary

1 Tbsp Fresh Sage

1 Tbsp Fresh chives

2 cloves garlic – peeled and smashed

1/3 cup white wine

1 Tbsp olive oil

1 tsp Brown sugar

1 tsp Dijon mustard

¼ tsp onion powder

Fresh ground black pepper

Sea salt
Directions
In a small food processor, combine all marinade ingredients until well blended and smooth (or use blender if you don't have small processor).

Put chops into a zipper bag and pour marinade over all. Squeeze out air and zip closed. Marinate for 1-3 hours, (3 is best). Remove from refrigerator 20 minutes before grilling.
Preheat grill on high. Reduce to medium-high and place pork chops on grates grilling 5 minutes per side with a golden brown color and char marks. Remove from grill and tent with foil for 10 minutes before serving.