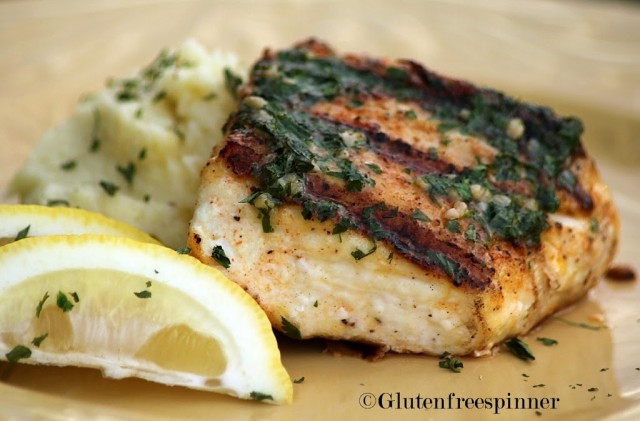 Grilled Halibut with Parsley Butter
This is my favorite recipe for halibut. It's consistently good and brings high applause when serving to guests. The parsley butter sauce compliments the white flaky fish without overpowering it's delicate flavor. I always serve this with garlic mashed potatoes, grilled asparagus, and a garnish of lemon.
4 – 7 oz fresh Halibut fillets, skin removed, rinsed and patted dry with paper towel
Rub Ingredients:
¼ tsp garlic powder

¼ tsp onion powder

¼ tsp paprika

¼ tsp lemon pepper

1/8

tsp sea salt

¼ tsp fresh black pepper
1 ½ Tbsp extra virgin olive oil to rub on fish before grilling
Parsley Butter Sauce
3 Tbsp butter

1 clove garlic, minced

1 Tbsp chopped fresh Italian flat leaf parsley
Directions
Preheat grill on high heat.
In a small bowl, stir together the garlic powder, onion powder, paprika, lemon pepper, sea salt and pepper. Sprinkle seasonings on the fish and gently rub into the fillet. Lightly sprinkle both sides with olive oil. (If preparing ahead of time, you can cover with plastic wrap and refrigerate until ready to prepare, up to 3 hours.)

In a small microwavable ramekin, add the butter, garlic, and chopped parsley and heat at 30 second intervals until the butter is melted.
Reduce heat to medium-high and place the fillets on the grates. Grill, covered, 5 minutes, then gently turn so as not to break the fillets and grill 6 more minutes. Brush with the parsley butter sauce and grill another 2 minutes or until easily flakes with fork. Note: Times need to be adjusted to the thickness of the halibut. Our fillets were 1 ½" thick so adjust time for thickness.
Remove from grill and serve with garlic mashed potatoes, grilled asparagus and a garnish of lemon wedge.