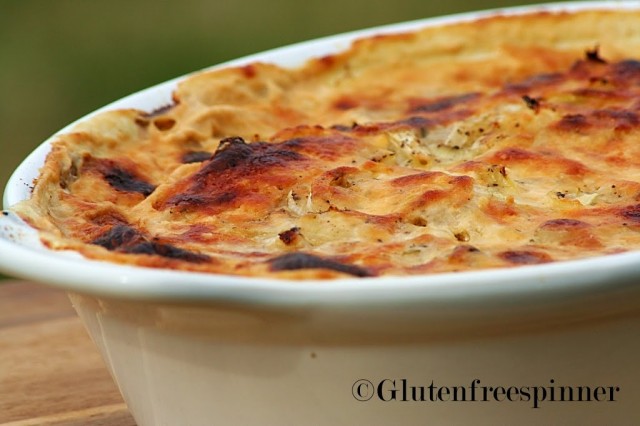 Creamy Au Gratin Potatoes
I love everything potatoes, especially creamy cheesy Au Gratin's. I lightened these up a bit by replacing most of the heavy cream with Carnation's 2% evaporated milk. I love the flavor combination of Swiss and Parmesan cheese. It's rich and savory without the greasy texture of cheddar. The final sprinkle of Parmesan Cheese creates a bubbly brown crust which makes these irresistible.
4 medium Yukon Gold (preferred) or Russet potatoes, scrubbed well and thinly sliced with peelings still on, then cut in half
1 medium Vandalia onion thinly sliced and cut into thirds
2 Tbsp Butter
2 Tbsp gluten free flour (I used Pamela's baking mix)
1 can Carnation 2% evaporated milk
1/4 cup heavy cream
1/2 tsp sea salt
1/2 tsp pepper
1/4 tsp garlic powder
1/2 cup shredded Swiss cheese
1/4 cup grated Parmesan cheese, plus more for topping
Directions
Preheat oven to 375 degrees and butter the sides and bottom of a casserole dish.
Toss the potatoes and onions in a large glass bowl and cover loosely. Microwave on high for 7 minutes. Stir well to ensure even cooking and return to microwave, covered, for 5 more minutes. Remove and season with salt and pepper, tossing again to combine, then set aside.
In a heavy sauce pan over medium heat melt the butter. Add the flour, whisking until fully blended with the butter and cook for 1 minute. While still whisking, slowly add the milk and cream and continue whisking so there are no lumps. The sauce will start to thicken and at this point turn the heat down to medium low so as not to burn the bottom or heat to quickly. Add the salt, pepper and garlic powder. When the sauce is thickened to a gravy consistency, add the Swiss cheese and 1/4 cup Parmesan cheese. Continue stirring until cheese is almost fully melted and turn off the heat. Pour the cheese sauce over the potatoes and onions and mix all together.
Pour into buttered casserole dish and spread around to evenly distribute. Top with grated Parmesan cheese and bake, covered, at 375 for 50 minutes. (If your casserole dish doesn't have a lid, cover with aluminum foil.) After the 50 minutes, uncover and cook an additional 25 minutes or until brown and bubbly on top and potatoes are tender. Let sit for 10 minutes before serving.