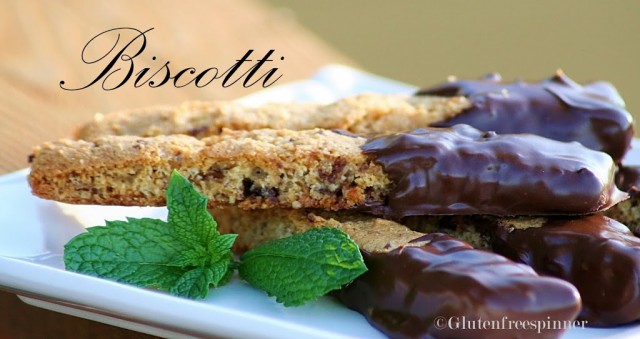 Chocolate Dipped Toffee Biscotti
One of my favorite Sunday morning treats is biscotti dunked in a cup of coffee. These light and crisp almond biscotti cookies are loaded with bits of caramel toffee and finished with a smooth and silky coating of semi-sweet chocolate velvet. Tempted yet?
Ingredients

1 ¾ cups pamelas's gluten free baking mix

¼ cup Gluten free almond flour

2 tsp baking powder

1 tsp Xanthum gum

5 Tbsp butter – softened

½ cup light brown sugar

2 Tbsp light corn syrup

½ tsp almond extract

2 eggs, slightly beaten

1/3 cup Heath Milk chocolate toffee bits

1 1/4 cups Semi-sweet chocolate chips

2 Tbsp butter flavor shortening
Directions
Preheat oven to 325 degrees
Combine the baking mix, almond flour, baking powder, and Xanthum gum in a bowl and set aside. In a medium sized mixing bowl beat the butter, brown sugar, corn syrup, and almond extract until well blended. Add the eggs and beat for at least 2 minutes until creamy, light and smooth.

Gradually add the flour mixture to the butter cream and mix on low speed until blended. Add the toffee bits and stir to combine.

Line a large baking sheet with Parchment paper. Divide the dough into two and place both lumps of dough onto the sheet and dust the top with a little bit of baking mix. The dough will be sticky, but start to create two separate logs. They don't need to be perfect and the tops will be messy but they will smooth out while baking. Each log will be about 10" x 4".

Bake in preheated 325 degree oven for 20 minutes or until golden brown. Remove from oven and let sit for 3 minutes. Then cut each log into 12 – 1" wide cookies. Let cool another 5 minutes. Separate on cookie sheet so they aren't touching each other and return to oven for 7 minutes. Remove from oven and gently lay the cookies on their side. Return to oven for another 5 minutes. Remove and cool.
Heat the chocolate chips and shortening in a glass bowl in microwave for 30 seconds at a time, stirring in-between each heating until melted…be careful as you can easily over-cook the chocolate and it will become thick, dry and unusable.
Gently dunk each end into the melted chocolate and place back on the parchment paper to set.