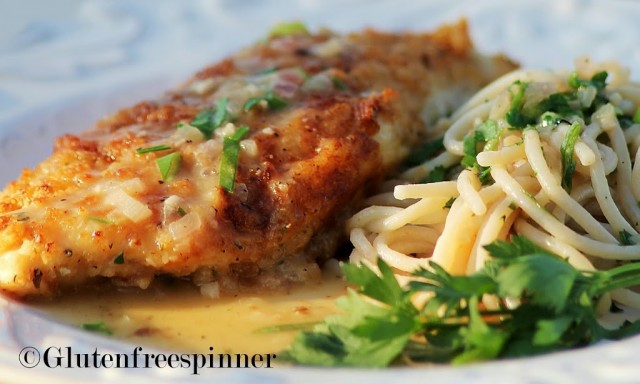 These chicken breasts are lightly seasoned and coated with a cracker/Parmesan coating then quickly sauteed and finished in the oven. Serve with a side of spaghetti noodles and a drizzle of the wine butter sauce to give this easy weekday dish an elegant twist.

Ingredients
Tinkyada brown rice spaghetti noodles – (the amount is up to you)

6 boneless skinless chicken breasts – ½" thickness (if thicker, pound to ½")

2 Tbsp olive oil

2 Tbsp butter
Coating Ingredients:
1 pkg Shar table crackers (each 7 oz pkg has three separate packages, use 1)

1/4 cup grated Parmesan cheese

1 tsp fresh ground black pepper

½ tsp onion powder

½ tsp garlic powder

1 tsp "perfect pinch" Italian salt free seasoning

1 tsp sea salt
Wine Sauce
½ cup white wine

2 Tbsp butter

2 Tbsp chopped red onion (or shallots)

1 clove of garlic, minced

1 Tbsp gluten free flour

2 cups chicken broth

1 Tbsp butter

Salt and pepper to taste

1 Tbsp chopped green onion

2 Tbsp chopped fresh parsley
Spray a 13×9 inch glass casserole dish with cooking spray. Preheat oven to 375 degrees.
Heat a large pot of salted water to boil for noodles and cook to package directions. Drain and rinse. Add 1 Tbsp olive oil and chopped fresh parsley and set aside.
While noodles are cooking, combine the coating ingredients in a shallow bowl and toss together until well blended. Lightly season both sides of the chicken breasts with salt and pepper.
In a large sauté pan over medium-high heat, add the olive oil and butter and heat until the butter is bubbling and oil is hot. Put the breasts (one at a time) into the coating mixture and press the coating into the chicken to stick. Be sure to coat both sides. Place the coated breast into the sauté pan with the hot butter mixture and repeat with the remaining breasts. If your pan is too small for all 6, sauté in two batches or the chicken won't be crispy. Cook about 2-3 minutes per side and remove to prepared 13×9 casserole dish. When all breasts are sautéed, bake in 375 degree oven for 15-20 minutes or until juices run clear and no longer pink.
While the chicken is cooking, in the same pan used to sauté the chicken, deglaze the pan with the wine on medium high and allow to cook for 1 minute. Add the butter and swirl around in the pan until melted. Add the chopped red onion (or shallot) and garlic and cook another 3 minutes allowing the onion to become tender. Slowly whisk in the flour and cook for about 1 ½ to 2 minutes. Slowly whisk in the 2 cups chicken broth and simmer on medium heat while it thickens, seasoning with salt and pepper to taste. When the sauce is the consistency of a loose gravy, finish with 1 Tbsp butter, chopped green onions, and parsley and remove from heat. Serve the chicken with a side of the noodles and drizzle the wine sauce over all. A glass of sauvignon blanc or chardonnay is terrific with this meal.