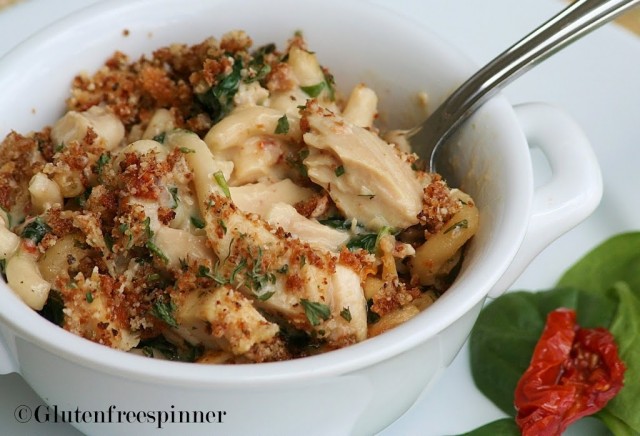 Chicken Florentine Crockett's
Fusilli pasta loaded with chicken, spinach, and zippy sun dried tomatoes all baked in a creamy bechamel sauce and finished with a crunchy Parmesan topping. The best part is there's no guilt as I used lowfat 2% evaporated milk instead of heavy cream and you'll never know the difference. So temp your family and guests with these individual crockett's and savor every bite, you'll tag this one as a favorite. Enjoy.
Ingredients
1 ½ cups uncooked Tinkyada Pasta Joy Brown Rice Fusilli

2.5 Tbsp Butter

2 Tbsp all purpose gluten free flour

1 – 12 oz can Carnation lowfat 2% Evaporated Milk

½ cup skim milk

1 tsp black pepper

1 tsp sea salt

1 tsp salt-free Italian seasoning

2 ½ cups cooked chicken breast – cut into ½ inch pieces (you may consider broasted chicken from deli but check seasoning ingredients for gluten)

¼ cup Swiss cheese

¼ cup grated Parmesan cheese

2 Tbsp olive oil

¼ cup chopped onion

1 clove garlic, minced

8 sundried tomatoes packed in oil, chopped

3 cups fresh baby spinach (washed and rinsed)
Topping
1 Tbsp olive oil

½ tsp Italian seasoning

½ cup fresh gluten free bread crumbs

2 Tbsp grated Parmesan cheese
Directions
Prepare four 12 oz Crockett's by buttering the inside. Preheat oven to 350.

Cook the pasta in a large pot of boiling salted water with 1 Tbsp olive oil added. Cook according to package directions until al dente', drain and rinse. Return to pan and toss in 1 Tbsp olive oil, 2 Tbsp chopped fresh parsley. Add the cooked chicken to the noodles and set aside.

In a medium saucepan, heat the butter over medium-low heat until melted. Add the flour and stir until smooth. Continue cooking until the mixture bubbles, about 1 minute. Slowly add both milks whisking while adding and continue whisking until the mixture is smooth and creamy and no lumps. Add the pepper, salt, and Italian seasoning while continuing to whisk. Once the sauce is a gravy consistency, add the Swiss and Parmesan cheeses. Whisk to combine until fully melted into the sauce. Remove from heat and add to the noodle and chicken mixture. Stir together to combine.

In the same saucepan heat 2 Tbsp olive oil over medium-low heat and sauté the onion and garlic until fragrant and slightly softened. Add the sun dried tomatoes and sauté another 1 minute. Add the fresh spinach to the top of the onion mixture (don't stir) and cover the pan and allow the spinach to wilt (about 3-4 minutes). When spinach is just wilted, turn off heat and stir to combine. Add the spinach mixture to the noodle mixture mixing all together.

In the same saucepan, add 1 Tbsp olive oil, ½ tsp Italian seasoning, and the ½ cup bread crumbs. Toss over medium heat until crumbs are toasted, careful not to burn as this will not take long. Remove from heat and add the grated Parmesan tossing to combine all.

Pour the noodle and spinach mixture into the four crockett's distributing evenly. Sprinkle the toasted bread crumbs over top and drizzle with a little olive oil. Bake in 350 degree oven for 15-20 minutes until the top is brown and bubbly. Let sit for 5 minutes before serving. Serve with a side salad and crispy gluten free garlic toast.