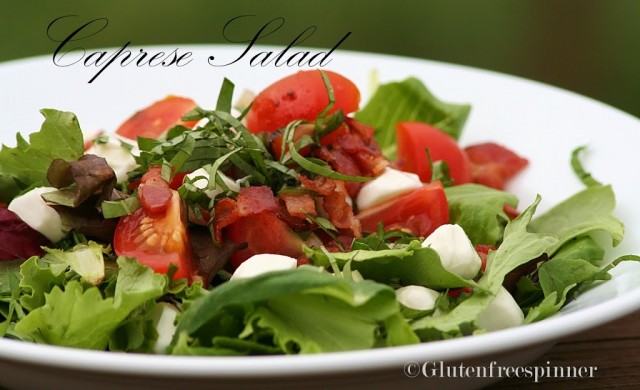 Caprese Tossed Salad with Bacon
If you live a gluten free life, you know the options are limited in finding a quick bite to eat when you're on the road. I usually grab a vitamin water to tide me over, but today I learned of a salad offered by Panera Bread
, which is a Caprese Salad with balsamic dressing….and it's gluten free! Hooray for Panera!
For anyone who has been to Panera, you know they have a bakery section with dreamy breads. I wish I could say the aroma of freshly baked loaves of Focaccia, Country, French, and my all time favorite, Asiago Cheese Bread, didn't have me longing for days gone by. The truth is, I was mesmerized by their golden crusty edges and beautifully braided tops as they tempted me from their cooling racks. I held them in loving memory knowing they will never be a part of my life again…and just as I leaned over the counter to hug the loaf of Asiago, a voice of reason whispered in my ear, "Snap out of it!", bringing me back to reality.
I ordered my caprese salad (while confirming it was gluten free) and declined the side of bread opting for an apple. The salad was delicious. The baby greens and fresh basil leaves were topped with summer-sweet tomatoes and salty tender mozzarella balls. The salad was lightly dressed with balsamic vinaigrette dressing and the combination was wonderful. Being a fan of traditional caprese salad, I thought their idea was brilliant!
So here's my version of the Caprese Tossed Salad with the addition of crumbled bacon (isn't everything better with bacon?) I made the dressing a bit more flavorful than a traditional balsamic vinaigrette by adding Dijon mustard. I also used Mozzarella Pearls, which are smaller than the balls (bocconcini) and were a great find in my local grocery store. Thanks to Panera for the inspiration and for creating a quick take-out option that's gluten free.


Dressing:
2 Tbsp good Balsamic Vinegar

1-2 tsp sugar (add one to start and add more to taste)

1/4 tsp garlic powder

1 Tbsp Dijon mustard

1/4 cup olive oil

Salt and Pepper to taste
Organic Spring Mix lettuce

Fresh basil leaves

Grape tomatoes – cut into 1/4's

Mozzarella Pearls (or the larger balls – bocconcini – if you cannot find the pearls)

Crumpled crisp bacon

Cut basil leaves for garnish – roll into a tight cylinder shape, chop at an angle.
Directions
Blend the balsamic vinegar, sugar (start with 1 tsp sugar adding a little more to your taste), garlic powder and Dijon mustard in a small bowl. Whisk in the olive oil and add salt and pepper to taste.
Toss the lettuce, basil leaves, tomatoes, mozzarella pearls, and bacon. Pour a few tablespoons of the dressing over all and toss until combined adding more to your taste (Be careful not to over-dress). Garnish with the cut basil leaves and serve.