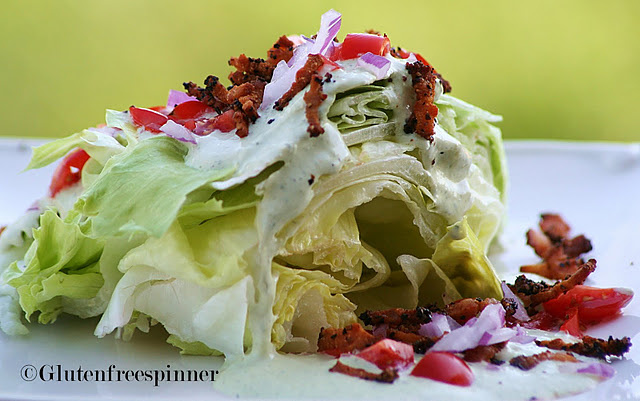 Wedge Salad with Green Goddess Dressing
Dinner last weekend at one of our favorite steak houses inspired me to re-create this salad. The dressing on their wedge salad was to die for and it tasted like summer on a plate.
I asked what the base of the dressing was and the server said it was almost a pesto dressing.
The flavors of fresh basil and green onion gave it a zippy bite while the coolness of sour cream gave it a creamy texture. I used pepper bacon for added flavor and chopped grape tomatoes which offer a hint of sweetness. Here's my attempt..I have to say it was delicious.
Ingredients:
1 cup Mayonnaise

1 cup chopped green onions, white and green parts (6 to 7 scallions)

1 cup chopped fresh basil leaves

2 Tbsp chopped fresh chives

1/4 cup freshly squeezed lemon juice (2 lemons)

2 cloves of garlic – pressed in garlic press

2 tsp Worcestershire sauce

1 tsp sea salt

1 teaspoon freshly ground black pepper

3/4 cup Daisy Light sour cream

1 head iceberg lettuce

1 cup grape tomatoes cut into 1/4's (or any tomato in season)

½ lb bacon fried to crisp and crumbled (I used pepper bacon – yum)

Red onion chopped (optional for color)
Directions
Place the mayonnaise, green onions, basil, chives, lemon juice, garlic, Worcestershire sauce, salt and pepper in a blender and blend until smooth. Add the sour cream and process just until blended. Refrigerate in sealed container until ready to use and whisk to combine before serving.

Remove the core from the head of lettuce, rinse, and cut into quarters. Arrange on 4 salad plates. Pour the dressing over the wedge, sprinkle the tomatoes and bacon over the dressing and add the red onions if you are using.