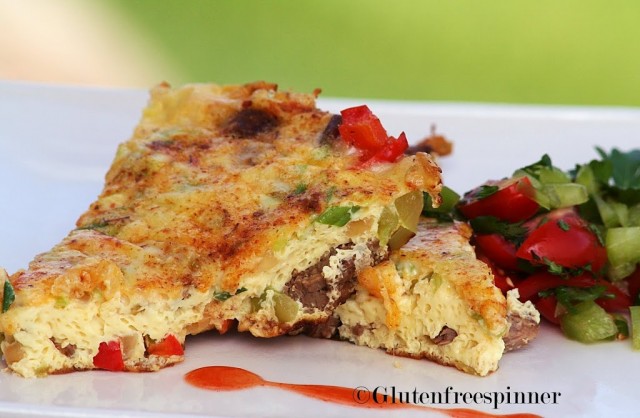 Southwest Frittata with Tomato Pepper Salsa
Another frittata this morning and this one has a special tomato pepper salsa. The red and green peppers along with the cilantro and tomatoes make a beautiful presentation while they fill your senses with summer garden freshness.

I used leftover sirloin, but you can add your favorite choice of meat or add mushrooms to add another level of flavor.
1 Tbsp olive oil

1 Tbsp butter

5 eggs

1/4 cup skim milk

1/4 cup chopped green onions

3 dashes of hot sauce

salt and fresh black pepper

1/2 cup diced – cooked meat of choice (sirloin, ham, sausage, etc)

1/2 green bell pepper

1/2 red bell pepper

1 small onion

1/4 cup finely shredded Mexican cheese blend

Sprinkle of Parmesan cheese

Sprinkle of Emeril original Essence
Tomato Pepper Salsa – Combine all ingredients – don't add salt, just taste the flavors of the salsa
10 Baby grape tomatoes – cut into 1/4's

1/2 chopped green bell pepper

3 Tbsp Chopped fresh cilantro

3 Tbsp Chopped green onions
Heat the oven to 375 degrees
In a medium sized oven proof skillet heat the olive oil and butter over medium heat until bubbly and add the meat, bell peppers and onions. Saute until the onions are tender but still crisp.
Meanwhile, in a medium glass bowl whisk the eggs, milk, green onions, hot sauce, salt and pepper together until well combined and bubbly. When the meat and peppers are done, pour the egg mixture evenly over the top and sprinkle with the Mexican cheese. Do not mix or shake, let it sit and gently go around the sides with a rubber spatula. When the sides are set, sprinkle with the Parmesan cheese and Emeril Essence and transfer to the preheated 375 degree oven for 10-15 minutes or until set on top. Remove from oven and let sit for 5 minutes. Serve with the Tomato Pepper Salsa and a dash of hot sauce. Yummmy.