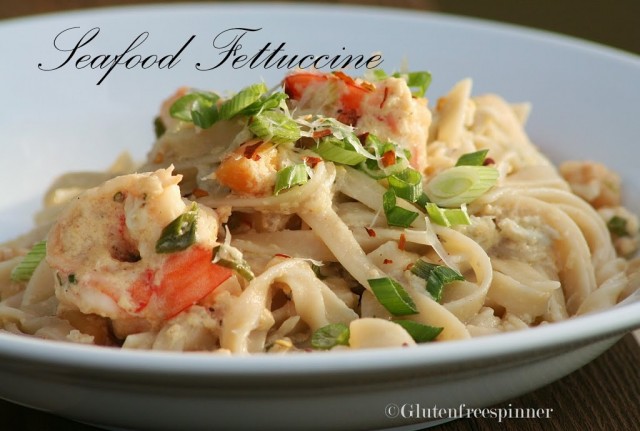 On a Saturday night last Summer we joined very good friends at an upscale seafood restaurant for dinner. I ordered salmon, my friend chose the scallops, and the guys had seafood fettuccine. Halfway through dinner the guys compared notes on their fettuccine and both concluded it was like glue. I think we were having such a great time together and the restaurant was known for having the best seafood dishes in town that they didn't want to admit how horrible their dinner was. They picked out the seafood and left the noodles and paste. Very disappointed to say the least…especially after paying the $185 bill.

With a pristine reputation I always wondered how they could serve fettuccine that resembled white pasty glue. We should have returned it.
So the following January we invited them for dinner and I put seafood fettuccine on the menu. The four of us share a passion for good food and cooking so an invitation to dinner in each others home usually proves amazing…yet it also comes with the pressure to impress (in a fun way). They were both watching their diet closely and I was still learning my new gluten free lifestyle, so no doubt I had a challenge ahead of me.
After a beautiful afternoon of snowshoeing, we opened a chilled bottle of Pinot Toi and started dinner. I had prepped everything ahead of time so the final steps were easy. The results were delicious and not a noodle was left in the serving dish. They never noticed a difference in using brown rice noodles, and the sauce was creamy and light. The substitution of fat free half and half in place of heavy whipping cream proved successful, however if you want a decadent dinner, a little more creaminess, and don't mind the fat, try this with heavy cream or a combination of the two.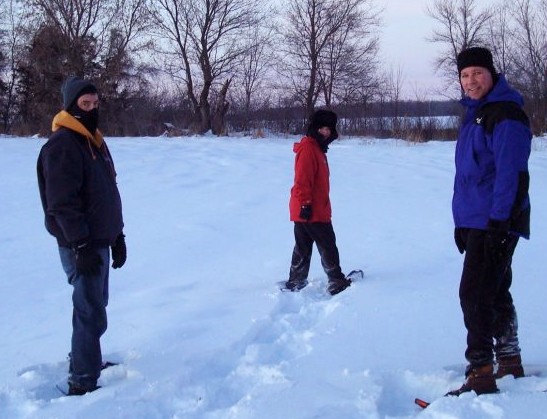 Ingredients
8-10 oz of dry Brown Rice fettuccine noodles (Gluten-Free)

2 Tblsp butter

1 Tblsp Olive Oil

¾ cup chopped green onions – divided

3-4 garlic cloves, peeled and minced (depends on size of clove)

6 oz. raw medium shrimp – peeled and deveined, tails off, and gently butterflied down back

6 oz raw Bay scallops

Millers Select Lump Crab – drained

1/3 cup white wine

1 ¾ cup FF half and half

½ tsp Italian Seasoning

Sea salt and Fresh black pepper to taste

1-1 ½ Tbsp Old Bay Seasoning

¼ tsp Red Pepper flakes

½ cup freshly grated Parmesan cheese (divided use)
Directions
Bring a large pot of lightly salted water to a boil, cook noodles to package directions, rinse and drain well. Put back in pan (no heat) and toss with little olive oil so they don't stick. Set aside.

Meanwhile, in a medium size bowl, toss the shrimp and scallops with Old Bay Seasoning – just until lightly coated (be careful – Old Bay can be salty).

In a large skillet, heat the butter and olive oil over medium heat and sauté ½ cup of the green onions and the chopped garlic over med heat for 2 minutes.

Add shrimp and scallops to the onion mixture and sauté for 2-3 minutes, stirring to combine, until the shrimp start to turn pink (don't overcook as they will continue to cook in the sauce). With a slotted spoon, remove the seafood to a plate and keep warm. In the same skillet, turn heat to med-high and add the white wine and cook 1 minute. Add the ½ & ½ , salt and pepper, red pepper flakes, and Italian seasoning. Reduce heat to medium and cook for 3-5 minutes until reduced – do not boil. Gradually sprinkle ¼ cup Parmesan cheese over cream mixture and continue stirring another minute. Return the seafood to the pan and toss to coat with sauce. Reduce to low and continue to add a little more Parmesan until you reach desired consistency – allowing to thicken between each addition (30 sec). Be sure to leave the sauce somewhat loose as it will thicken with the addition of noodles and you don't want it pasty.

Remove from heat and add cooked fettuccine noodles to seafood mixture and gently toss to coat noodles. FOLD the Lump crab into mixture so as not to break the lumps. Top with parmesan, remaining chopped green onions, and just a sprinkle red pepper flakes (they are hot) and serve. YUM

Serve with Caesar Salad and gluten free garlic toast (and white wine of course).