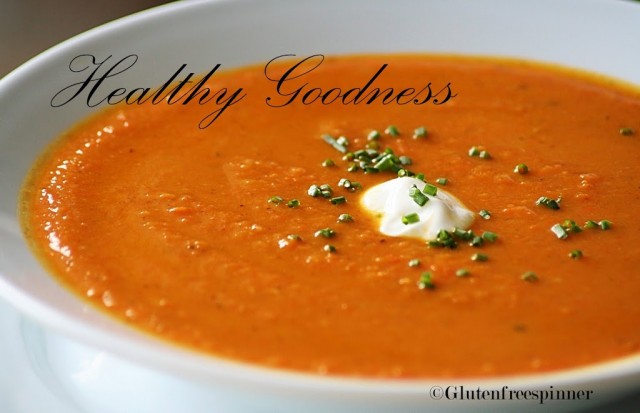 Roasted Carrot and Sweet Potato Soup
Summer in Minnesota has changed over the last few years to cooler and wetter conditions. We snuggle in our blankets and furry slippers each winter anticipating the warm sunny days of summer. But June has offered us cloudy skies and sixty degree temps…reminiscent of days in Autumn, so today instead of the usual summer fruit salad and grilled chicken, I made a roasted carrot and sweet potato soup. The flavor combination in this soup creates a balance to the vegetables adding a hint of spice and a slight sweetness without overpowering the roasted veggie taste. It's easy to make, packs a nutritious punch, and is certain to impress. Try making your own thick buttery croutons for a topping or simply enjoy with a dollop of sour cream or greek yogurt. For variations, parsnips and butternut squash would also work well in this soup.
Ingredients
For Roasting Veggies
1 small sweet yellow onion

4 carrots

1 sweet potato

1 small russet potato

2 stalks of celery with leafy tops

1 large clove of garlic

Olive oil

Sea Salt and fresh black pepper
For Soup

1 Tbsp tomato paste

3 cups organic chicken stock – low salt (or vegetable stock)

½ tsp onion powder

1 Tbsp butter

¼ tsp cumin

½ tsp red curry paste

1 tsp 100% pure maple syrup – be careful not to add too much or it will be sweet

¼ tsp ground ginger

2 Tbsp fresh squeezed orange juice (if not fresh, only use 1 Tbsp of prepared)
Finish with

1 Tbsp heavy whipping cream

1 Tbsp grated Parmesan (optional)
Directions

Preheat oven to 425 degrees.
Peel the onion, carrots, potato, sweet potato, and cut into 1" cubes. Peel and cut the garlic clove into quarters. Chop the celery and tops into 1" pieces. Place all veggies and garlic onto a large baking sheet sprayed with non-stick spray. Toss with olive oil, salt and pepper until coated and evenly distributed on pan.

Roast in 425 degree oven for 25 minutes or until tender and gently roasted brown. Remove from oven and transfer to food processor. Pulse to break down the veggies and add 1 cup of the chicken stock while blending until a thick texture – don't puree to a baby food consistency – keep some texture of the veggies yet making a smooth soup (see picture).

Pour into a medium saucepan and add the remaining 2 cups of chicken broth. Add the remaining soup ingredients and cook over medium low heat until heated through, adding salt and pepper to taste. Turn off heat, add the cream and Parmesan cheese and stir until combined. Allow to cool 5 minutes as flavors are stronger when it's not piping hot.

Serve with fresh gluten free croutons and a dollop of yogurt or sour cream.