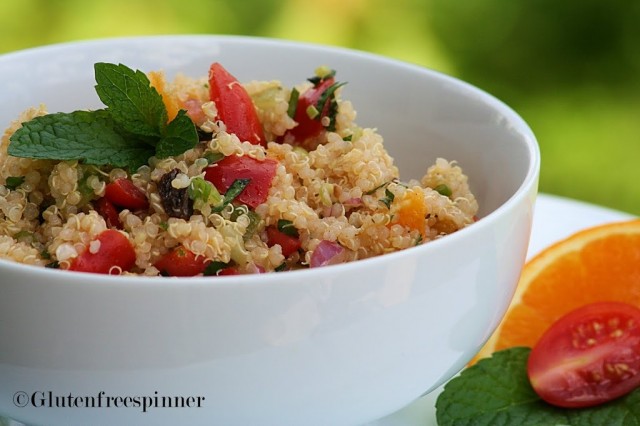 Quinoa Salad
If you haven't tried Quinoa, put it on your list. This grain (technically it's a seed), is a welcomed change from rice or pasta, and it's totally different. The light, fluffy, mild, nutty, delicate texture makes a great salad or side dish and is often used in soups, stews, breads, and even desserts. It's loaded with protein, calcium and Iron and is a good source of vitamin E and several of the B vitamins.
I love Quinoa as a substitute for bulgar in one of my favorite summer salads, Tabouli. This salad is similar, however I don't use as much parsley as with the Tabouli, and I add a hint of sweetness with orange segments and raisins. The flavor combination's of mint, orange, red onion, cilantro and raisins pair well with a chilled glass of Pinot Gris or Sauvignon Blanc.
Ingredients
1 cup Quinoa (Ancient Harvest is a good brand that's already pre-washed and ready)

2 cups water

½ tsp kosher or sea salt

½ cup diced cucumber (or celery if you don't have)

2 tbsp chopped red onion

2 green onions – chopped

15-20 grape tomatoes – sliced

2 navel oranges – segmented and segments cut in half

1 Tbsp chopped fresh mint leaves

1 Tbsp chopped fresh Parsley

1 Tbsp chopped fresh cilantro

Handful of Raisins
Dressing
¼ cup olive oil

1 tsp Seeds of Change Greek Feta Vinaigrette

Juice of one whole fresh lemon

½ tsp McCormick Greek Seasoning

½ tsp Agave

½ tsp sea salt

Fresh ground black pepper
Directions
Bring the 2 cups of water to boil and add the salt. Add the quinoa, stir, lower heat and cover cooking on low for 13-15 minutes. Remove from heat, let sit, covered for 5 minutes. Fluff with fork and pour into glass bowl and allow to cool.
Meanwhile, whisk the salad dressing ingredients together and set aside.
When quinoa is cooled, fluff with fork again and add the cucumber, red onion, green onion, tomatoes, mint, parsley, cilantro, and raisins. Toss ½ of the prepared dressing into the quinoa adding more and tossing to combine. Refrigerate.