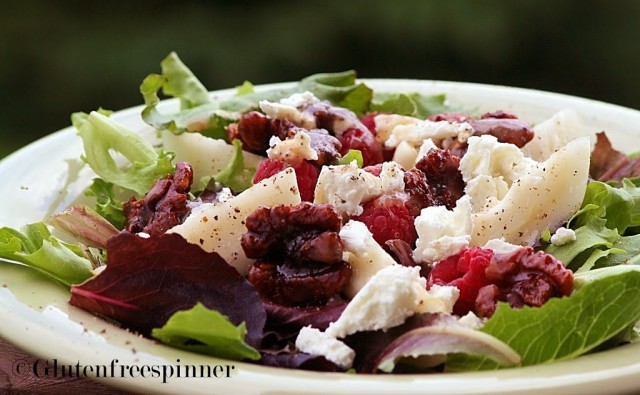 Pearberry Walnut and Goat Cheese Salad
This salad is as beautiful as it is flavorful with the contrast of tart raspberries, sweet crisp pears, candied walnuts and creamy Chevre goat cheese.

For the dressing I take help from Cardini's Pear Vinaigrette dressing, but to me it needs more punch so I add Dijon mustard and sweet fig spread to round out the flavors. Wonderful.
Baby lettuce leaves (washed and dried)

Thin sliced red onions (not too many)

Pears with skin removed and cut into wedges

Raspberries

Candied Walnuts

Chevre goat cheese

Fresh Ground Black Pepper
Dressing – Combine all ingredients with small whisk until combined:
1/3 cup Cardini's Pear Vinaigrette

1 Tbsp Dijon Mustard

1 heaping tsp Fig spread (find in your specialty deli and cheese area)
Place the baby lettuce on individual plates. Top with the pear slices, raspberries, and red onion slices. Lightly drizzle the dressing over each individual salad (not too much). Top with the goat cheese and candied walnuts and finish with fresh ground black pepper.