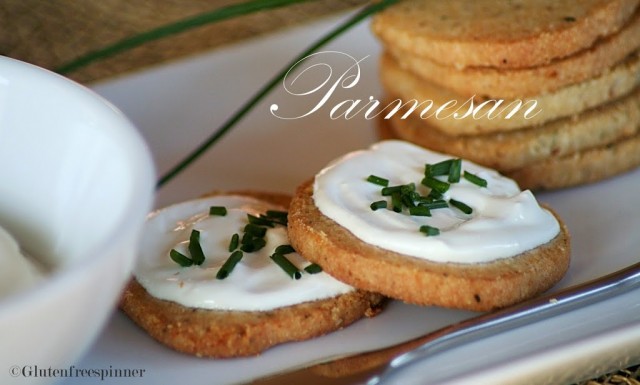 Parmesan Chive Shortbread Crackers
I love Parmesan. I love it on everything and I love to eat slices of it with a glass of wine. Many times it's my secret ingredient when a recipe is missing something, Parmesan always makes it better. The inspiration for these crackers came from Ina Garten's recipe for Parmesan thyme crackers. I chose to use chives instead of thyme and I made them a little
thinner to resemble crackers instead of a cookie. I also used two kinds of flour and omitted the salt. These savory little shortbreads are wonderful all by themself with a glass of red or white wine. For an appetizer, serve these with a small dish of simple sour cream as it adds a cool, creamy balance to the salty Parmesan flavors. Don't serve with flavored dips as these truly pack a flavor punch all by themself.
1 stick butter, softened

1 Tbsp fresh chopped chives

1 cup Parmesan cheese – preferably freshly grated

1/2 tsp fresh ground black pepper

3/4 cup gluten free all purpose flour (I used Pamela's baking mix)

1/2 cup sweet sorghum flour

1 Tbsp water
Cream the butter for one minute on medium speed and reduce to low while adding the Parmesan, chives and pepper. When combined (still on low setting), add the two flours and mix together. Add the Tbsp of water and continue to beat on low until you have large crumbles (30 seconds).
Dump the dough onto a floured surface and press into a ball. Roll into a 9″ log and wrap in plastic. Refrigerate at least 30 minutes or up to 4 days.

Preheat oven to 350 degrees and prepare a baking sheet with parchment paper. Cut the log into 3/8″ slices with a sharp knife and place on prepared cookie sheet. Bake for 13-5 minutes until golden brown. Rotate the pan once during baking. Cool on the baking sheet and store in an airtight container.